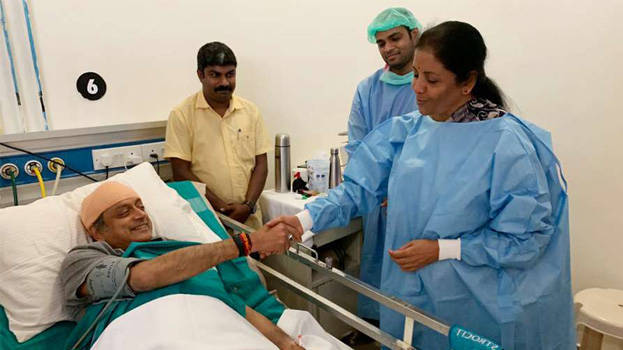 THIRUVANANTHAPURAM: Union Defence Minister Nirmala Sitharaman visited Shashi Tharoor, the UDF candidate of Thiruvananthapuram, who sustained injuries when the hook of a weighing scale came off and its iron panel hit his head while performing thulabharam in a temple, at the medical college hospital in the capital city. The union minister who reached the capital city for the election campaign of the BJP visited Tharoor in the hospital Tuesday morning.
Tharoor shared the picture of her visit in the Twitter. Touched by the gesture of Nirmala, who dropped by today morning to visit me in the hospital, amid her hectic electioneering in Kerala. Civility is a rare virtue in Indian politics-great to see her practice it by example, he tweeted.
Tharoor also tweeted that C Divakaran, the LDF candidate, called him and enquired about this health.
Tharoor received six stitches on his head after he injured himself while offering prayers at the temple Monday morning. He was weighing himself on a giant scale as part of the thulabharam in which a person sits on the scale against a mound of offerings like fruit and sweets, equal to the devotee's body weight.