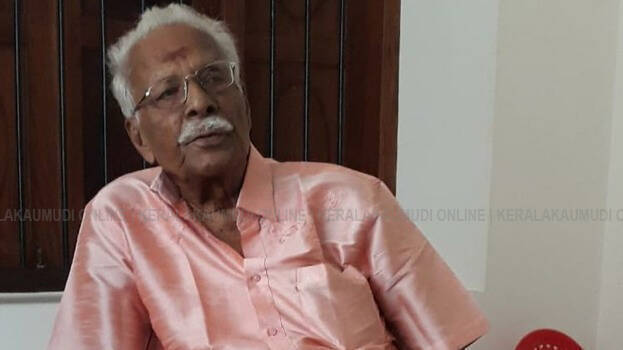 THIRUVANANTHAPURAM: Veteran film actor G K Pillai died here Friday morning. He was 97. He was the senior most actor of the Malayalam film industry. He entered the film field through Snehaseema released in 1954.
He was born to Govinda Pillai and Janaki at Chirayankeezhu in the capital city. He received his primary education from Chirayenkeezhu Sree Chithira Thirunal High School. Prem Nazir, Bharat Gopi and Shobana Parameswaran Nair too studied in the same school with Pillai.
Pillai's acting career spanned 67 years. He acted as a villain in most of the films starring his friend Prem Nazir. He was Pillai's inspiration in films. He entered the film industry after quitting his job in the Indian military service. He served in both Indian army and Indian Navy. At the age of 14, he joined the freedom fighters, left home and then reached the British Army. GK was among those commissioned to exterminate post-independence communal riots and suppress insurgents. He was considered for Padma Shree.
After taking voluntary retirement from the army, he got a chance to act in Snehaseema in 1954. He played the role of Poopally Thomas. He has acted in films like Harishchandra, Manthravadhi, Snapaka Yohanan, Pattabhishekam, Nayaru Pidicha Pulival, Koodapirappu etc. He was the main villain in Kannur Delux, Sthanarthi Saramma, Lottery Ticket, Kottayam Kolakkes and Cochin Express. His tall physique and voice gave the villain roles more character. He later became a permanent villain in Prem Nazir's films. He shone mostly in vadakkan pattu films. She has acted in over 350 films. In addition to his villainous roles, he also excelled as a character actor.
He was active in films till the late eighties. After that, he acted in very few films. In 1972, Pillai worked as an assistant director and assistant editor for Adoor Gopalakrishnan's Swayamvaram. Pillai started acting in serials in 2005. His first serial was Kadamattathu Kathanar. Then acted in various serials on various channels. His role in the serial Kunkumapoovu aired on Asianet during 2011-14 made him a household name among family audiences.
His wife Ulpalakshiyamma predeceased him. He leaves behind his children Prathap Chandran, Sreekala R Nair, Sreelekha Mohan, Sreekumari B Pillai, Chandramohan and Priyadarshan.