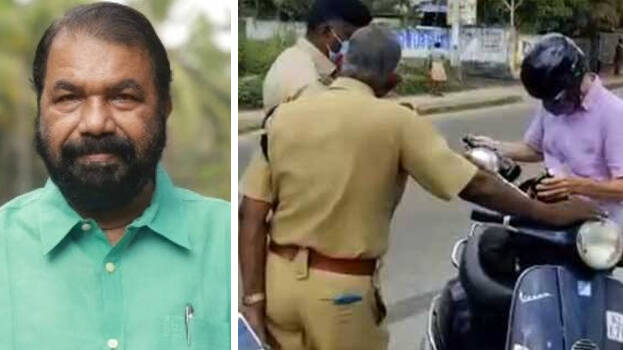 THIRUVANANTHAPURAM: Minister V Sivankutty said that the police action asking a foreign tourist to empty the liquor he bought to celebrate the New Year in Kovalam was an isolated incident. The minister was speaking to the media in Thiruvananthapuram. He said that the police are functioning efficiently in Kerala.
The minister said the foreign national, who had been harassed by the police, came to see him and even he had admitted that it was an isolated incident. However, Sivankutty added that the locals and the media portrayed it as a great atrocity.
Tourism Minister Mohammed Riyas had yesterday criticized the police action. Yesterday, Minister Mohammad Riyas had said that some members of the police are trying to thwart the government's development efforts. However, Sivankutty declined to comment on Mohammad Riyas's statement, saying that he didn't notice it.
Steve Asberg, who was traveling with alcohol to celebrate the New Year, was stopped by the Kerala Police near Kovalam. The incident took place yesterday. Police found three full bottles of alcohol on the scooter while checking. The police then asked him to produce the bill for the liquor. Steve said he forgot to buy the bill from the beverage outlet but the police did not listen. Police demanded that the bottle be discarded. Irked by this, Steve emptied the bottles by the side of the road. However, after noticing that someone captured the footage of the incident, the police said the tourist can take the alcohol bottles after producing the bill. After this, Steve went to the beverage outlet and bought the bill to prove his innocence. The Thiruvananthapuram DCP also demanded a report on the incident.