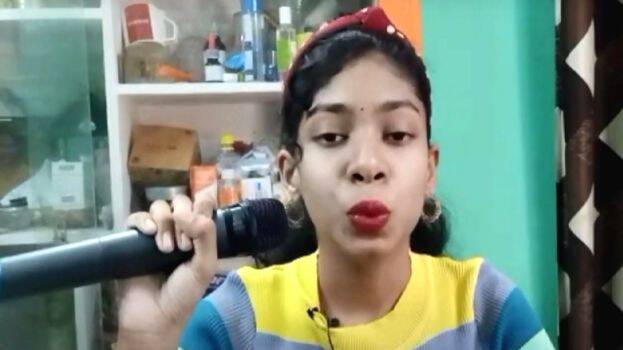 Saurabhya is a young Kerala girl, who could make three records for whistling songs so beautifully.

If you ask her the question whether whistling can be done in the night, this Ollukkara native will say Yes… there is no harm in it.

Ollukkara is a residential area in the Thrissur district of Kerala.

Now the Saurabhya's whistling is reverberating all over the country.

When Saurabhya was 3 yrs old, her father used to whistle songs for her and at that time he never though that whistling would make a well-known figure in music field one day. She turned super confident after her singer mother Jolly and sisters gave their all support.

When Saurabhya's sisters Soumya and Saobhagya went to learn Karate and Carnatic music, she also started leaning music.

She attended music class with her sisters in the morning and practised whistling songs with her father at night.
Her first stage performance happened when she was studying in the fifth standard. On that day she enthralled the audience with her whistle concert.
Till now she has performed on 256 stages. She has appeared in Colors Super Kids programme on Tamil Colors Channel and in Comedy Utsavam apart from other channels.

She has also done a programme in All India Radio.

She is currently a 10th standard student in Kalathodu St. Vincent Pallotti Central School.
Of late she came first in the World Malayali Whistling competition held for the junior category.

Next she is aiming Guinness World Record.