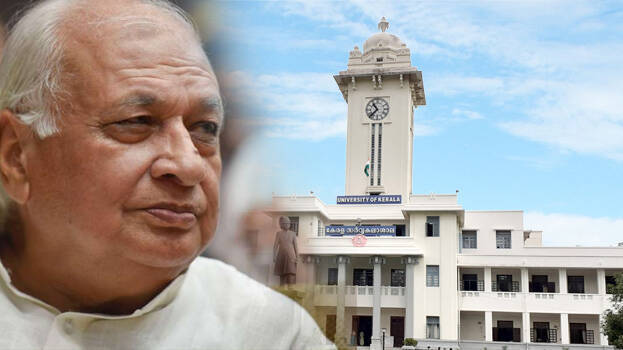 THIRUVANANTHAPURAM: A letter written by V P Mahadevan Pillai, vice chancellor of Kerala University, mentioned that Governor Arif Mohammad Khan had recommended to confer D.Litt to President Ram Nath Kovind. The letter revealed that the vice chancellor without convening a syndicate meeting to decide on it had discussed with some syndicate members and informed the Governor that the syndicate had turned down the proposal. This kicked up a row between the government and the governor.

The letter written on December 7 asserting that he had discussed the issue with some syndicate members and they had turned down the governor's directive, has been exposed. Kerala Kaumudi had reported on January 1 that the Governor had directed to confer D.Litt to President and the vice chancellor reached Raj Bhavan and gave a letter informing that the proposal has been turned down. It is indicated that the letter was given after seeking government's opinion as per the interest of left syndicate members.

The Governor called the vice chancellor to Raj Bhavan in the first week of December and directed to confer the honorary doctorate to the President. The VC left from there assuring to approve it after convening the syndicate. However, a decision was taken not to confer the D.Litt after holding talks with some Left members. When the Governor asked him to give in writing, the vice chancellor got a paper from the Raj Bhavan and scribbled and this provoked the governor. Grammatical errors and spelling mistakes were found in many places of the letter. Even D.Litt was spelt wrongly.
It is alleged that the Kerala University authorities had insulted not only the Governor but also the President by handling the issue in such a trivial manner. This angered the Governor and the next day he wrote a letter to the chief minister announcing his decision of quitting the chancellor's post.
If the Governor's proposal is presented in the 23-member syndicate, then six government secretaries will have to opine. They cannot take a stand against the President.
All but one of the remaining 17 members owe allegiance to the Left. In this situation, the VC did not present this before the syndicate.