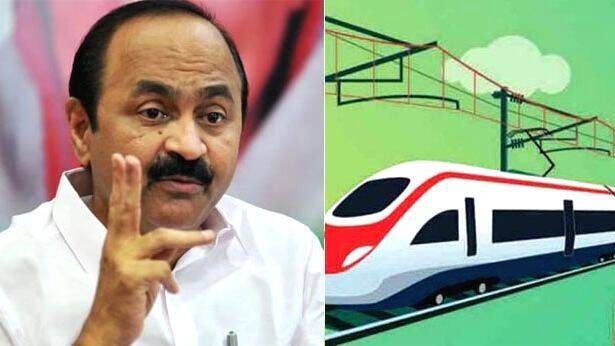 THIRUVANANTHAPURAM: Opposition leader VD Satheesan has criticized the government following the release of the DPR of the SilverLine project. Satheesan said in a press release that the representative of the French company which prepared the DPR had said that it was prepared in a jiffy.
"The DPR released now is an unscientific and incomplete report. How can a DPR be prepared without conducting environmental or social impact studies or surveys? According to the DPR, Central Kerala has all the natural resources required to build the 530 km K-rail".
"About 55 percent of the K-rail, that is 292 km, embankment will be placed at a height of 30 to 50 feet at a height of one meter to nine meters above the flood level. It should be made of stone and sand like a fort. The rest of the space should be walled on both sides. Where are the natural resources required for this hidden in Central Kerala?".
"The K-Rail MD contradicted what was said in the DPR. He says stones and sand for the construction will be bought via train from other states. The government does not even have an estimate of how many tons of natural resources it will need. If the DPR doesn't have any details regarding this, what kind of a report is that?", VD Satheesan asked.
"The Opposition also asked the same questions raised by the Railway Board representatives to the K-Rail authorities. The Ahmedabad-Mumbai bullet train is expected to have 36,000 passengers. On what basis is K-Rail expected to have 80,000 passengers? This is the same question asked by the Railway Board and the Opposition", he said. VD Satheesan also alleged that the government is trying to get a loan from JICA in Japan by manipulating data.
"It was just the other day the Chief Information Commissioner said that the DPR cannot be made public as it contains very secretive information. The DPR came out when Anwar Sadat MLA served a contempt notice against Vijayan. Where has the secretive nature gone now? If the DPR is exposed, the fabricated stories about the project will crumble. That's why it was kept a secret so far. The questions raised by the Opposition are not answered in this DPR. That is why the Chief Minister did not reply. Even now, the government's readiness to release the DPR is a political victory for the opposition. The UDF committee will study the 3700-page DPR. Direct discussions will be held with economic, technical and environmental experts", Satheesan said.