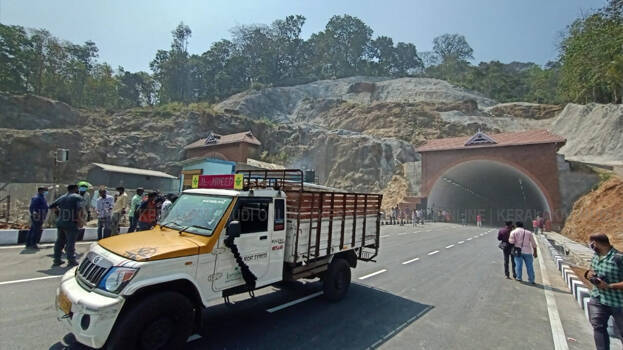 THRISSUR: The second tunnel at Kuthiran on the Thrissur-Palakkad national highway was opened for traffic. Vehicles from Thrissur to Palakkad started passing through this road. With that, two-way traffic of the first tunnel will be avoided and would be made one-way. A small part of the second tunnel is being opened. Work on the main approach road is yet to be completed.

The government had decided to open the second tunnel to traffic by the end of April. However, the national highways authority directed that the tunnel be opened in a passable condition.

The state government said they will not allow toll collection to start soon even if the tunnels are opened. 'During the construction of the second tunnel, a series of meetings were held with the participation of ministers to assess the situation. However, the national highway authority did not inform the ministers about the opening of the tunnel.' The news of toll collection is unfortunate, blamed Minister Riyas.

He said the rest of the work on the Kuthiran tunnel will be completed and it would be fully operational by the end of April. The highway authority said part of the tunnel is being opened as work has to be completed. Minister K Rajan said that the tunnel would be fully opened only after the road is ready for traffic.

The construction work of the second tunnel which is 944 meters long was completed very quickly. The first tunnel was opened on July 31 in 2021. Unlike the first tunnel, the entire interior of the second tunnel is gantry concreted. The Kuthiran has semi-circular tunnels.