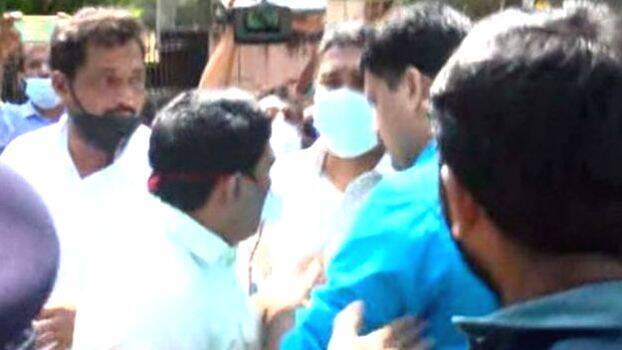 KANNUR: Youth Congress State Vice-president Rijil Makutty and several other leaders were beaten when they tried to barge into Janasamakasham program, an explanatory meeting of the Silver Line rail project.
Six Youth Congress workers tried to break into Dinesh auditorium at eleven o'clock in Thursday morning, during Minister M.V.Govindan's inaugural address.
The minister's security guard and the police stopped the group who raised the slogan "We want Kerala, not K Rail". CPM and Youth Congress activists pushed and shoved each other, the leaders were beaten in between.
Although the police reported chances of conflict adequate security, was not provided. City Inspector Sreejith Koderi arrived on spot with more police force and arrested the protesters.
Youth Congress State secretary Vinesh Chulliyan, District secretary Pranil Mathukoth, Jerin Antony, Yahiya and Manish Kottali were also among the protesters.
The government is organizing such events to explain the details of the project to the people. The program was a huge success in other districts and many misconceptions were cleared, said Govidan. Jaihind channel reporter Dhanith Lal who filmed the incident was also taken into police custody.
"DYFI and CPM district leaders beat us like street goons. We have the right to protest in a democratic country. It is the same DYFI which did many protests have brutally tortured us.", said Rijil Makutty.