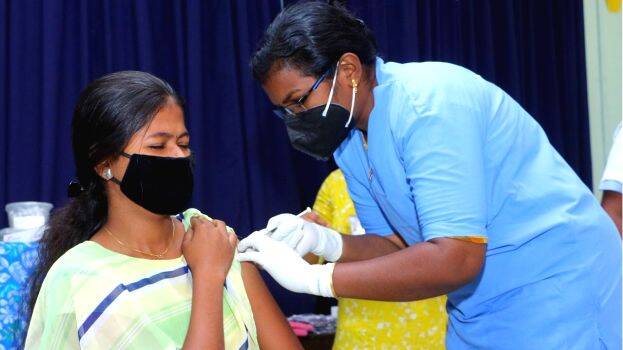 THIRUVANANTHAPURAM: The Covid review meeting chaired by Chief Minister Pinarayi Vijayan has decided to close down schools and colleges with less than 40 per cent attendance for three consecutive days. The institution will be considered as a cluster.
A.B.C classification adopted to evaluate Covid spread in the districts will come into effect from tomorrow. A parent of children suffering from cerebral palsy or autism will be allowed to work from home.
Due to Covid spread, the number of hospitalization cases has increased in the state. Thiruvananthapuram district has been placed in C category. CM has directed to pay more attention to Thiruvananthapuram district and to strengthen Covid restrictions by coordinating local self-governing bodies.
83 per cent of people were given the second dose of vaccination in the state. But vaccination average of Kasaragod, Malappuram, Palakkad and Idukki districts are below the state average. Child vaccination state average is 66 per cent. However, the average is low in Ernakulam, Idukki, Malappuram and Thiruvananthapuram districts. Districts below the state averages should undergo a special vaccination drive.
CM has directed the Health Department to provide facilities in all districts for Covid patients in need of dialysis. He has also ordered to examine reduction the number of employees in Secretariat.
An online training program for Rapid Response Teams (RRTs) was jointly organized by the Department of Health and the Department of Local Self Government. About 60,000 people, including RRT members and the public, attended the training.
It is important to provide timely information on the E-jagratha portal. Hospitals should provide correct details about oxygen information and bed availability. Health Department will launch a special campaign due to Covid outbreak. An online training program will be organized on January 26. Residents' associations and local authorities should attend the event, which will provide guidelines related to Covid treatment.
The authorities of private hospitals that refuse to admit Covid patients must be contacted. Covid tests at licensed labs are preferred rather than self-testing kits at home.
The Chief Minister has directed the Chief Secretary to set up a parallel system as the e-office system in the Secretariat will be upgraded from 25th to 30th.