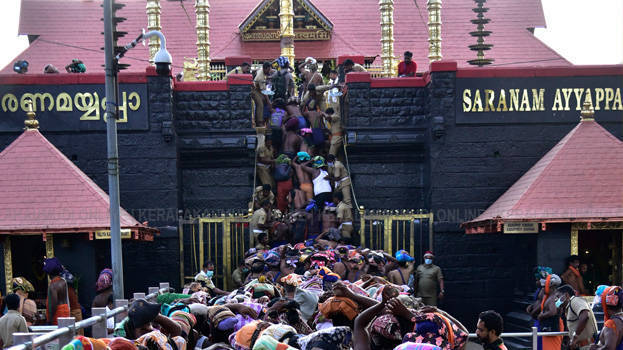 KOCHI: Travancore Devaswom Board has come out with a strange answer to the controversy regarding investment of Rs 150 crore in debenture bond by diverting money from EPF accounts.

Lord Ayyappan had foreseen that the Devaswom would reel under financial crisis in the aftermath of flood and Sabarimala women's entry issue.

Investment in debenture bond is a door opened by Lord Ayyappan himself to tide over the crisis.
This was submitted by the board in the high court.

This strange answer of the board, passing the buck to Lord Ayyappan, has created a big controversy.

The Board (TDB) ran into trouble after the Kerala Audit Department revealed the board purchased bonds worth Rs 150 crore of the crisis-ridden Dhanlaxmi Bank, diverting the Devaswom Employees Provident Fund and the Temple Employees Provident Fund without conducting a proper study or risk analysis.
In a report submitted before a Kerala High Court Bench that considers matters pertaining to the TDB, the Audit Department stated the fund should have been utilised for such investment after considering the risk factors of the investment.

As many as 58 fixed deposits having a maturity value of Rs 152.18 crore were closed prematurely for purchasing the bonds on March 28 last year. The board meeting held on March 22, 2018 had decided to purchase tier 2 bonds of the bank.

The audit department said it was a hasty decision without proper study. All procedures happened in a single day without giving any time for proper study or risk analysis. It had not obtained any technical advice from any competent agency. Investment in bonds and shares is subject to market risks and hence, needs a careful market study.