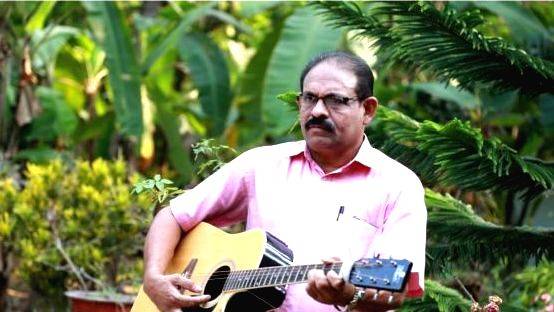 THIRUVANANTHAPURAM: Sathar will turn into Vavar once he starts playing Ayyappa songs on his guitar. His music is beyond the limits of religion and caste. "Singing songs of Ayyappa is devotional and divine", says Ochira Sathar.
Sathar's guitar songs are everybody's favorite. Songs like 'Pallikettu Sabarimalakku', 'Sabarimalayil Thanka Suryodayam', 'Thedivarum Kannukalil' find new life on Sathar's guitar.
'There is an artist inside this Khaki uniform' is a famous movie dialogue, which is true in the case of Sathar. He is a grade SI at Thiruvananthapuram A.R. camp. His main expertise is guitar solo.
'Swamiganam', which was a joint venture with lyricist M.D. Rajendran, was a noted album. M.D. Rajendran and actor Asokan were the singers.
Abdul Satha Khan of Idayila Veedu in Kayamkulam became famous as 'Ochira Sathar'. He has been a part of several prominent music and art societies and later became a guitarist at Kerala Police Orchestra in 1984. Sathar has presented his skills at thousands of music concerts. Once a guitar tutor at KPAC, Sathar is also skilled in bugle. Wife: Amitha. Sons: Ameen and Ameer Khan.
Sathar has also essayed the role of police officers in some movies. The government and police dept. has honored him for his skills. His documentary about AIDS had secured the national award for the best educational documentary in 1994.