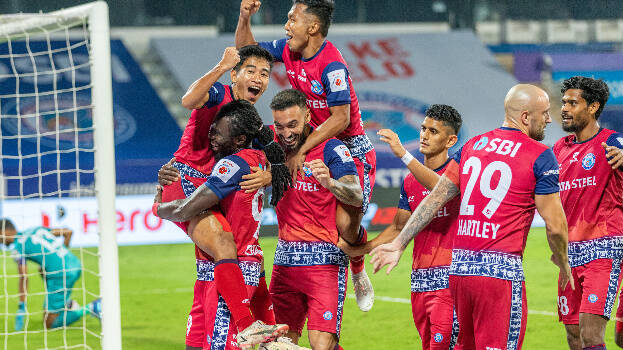 BAMBOLIM(GOA): Jamshedpur FC defeated the Blasters by three goals, including two penalties. The Blasters were awarded a penalty in the end of the first half. Greg Stuart scored both goals from the penalty spot. One goal was scored by Daniel Chuck. The Blasters are fifth position with 23 points from 14 games.
Jamshedpur attacked in the second minute of the first half. Prabhusukhan adventurously blocked Chuck's dangerous move. Blasters resisted the moves at first. In the 11th minute, Sipovic blocked another move by Jamshedpur. Jamshedpur, on the other hand, played well. In the thirteenth minute, Luna's cross was headed to goal by Hartley. Meanwhile, Chuck received a yellow card for fouling Leskovic.
Jamshedpur were awarded a penalty in the 43rd minute for Dhenechandra's foul on Greg Stuart inside the box. Stuart scored the goal accurately without any mistakes.
K Prashant replaced Vince Barreto in the second half. But within seconds the Blasters conceded a second penalty. This time, Leskovic's attempt to block a dangerous move by Boris Singh's right wing resulted in a questionable penalty. This time too Stuart took the kick and extended Jamshedpur's lead.
Jamshedpur scored the third goal in the 53rd minute, Chuck scored the goal this time. The Blasters' next match is against East Bengal on February 14.