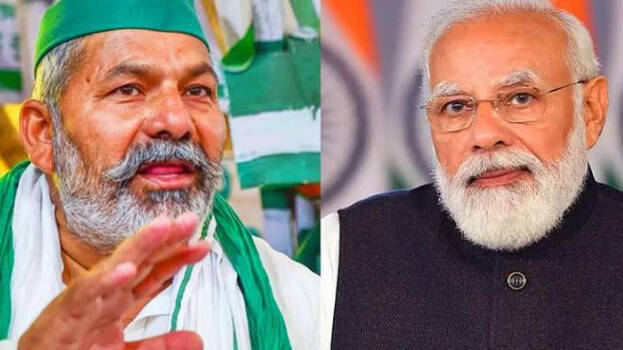 LUCKNOW: Farmer leader Rakesh Tikait has compared Prime Minister Narendra Modi to North Korea's dictator Kim Jong Un. Let the voters of Uttar Pradesh decide whether they want to turn Uttar Pradesh into another North Korea, he said.
'The voters of Uttar Pradesh have to decide whether they want a chief minister and prime minister who represent the masses or a situation like North Korea, a second Kim Jong Un. We only want the people to utilize their votes wisely', Tikait said.
In the last few weeks, the farmer leader has been raising strong criticisms against Prime Minister Narendra Modi and Uttar Pradesh Chief Minister Yogi Adityanath. He had also accused the BJP of conducting a polarizing campaign last day, in his hometown Muzaffarnagar. The people of Muzaffarnagar need development. The place is a not a stadium for Hindu-Muslim marches, he criticized.
The people of Uttar Pradesh need electricity and water for farming. A government that cannot provide this, is a failure, alleged the leader. The voters will not favour a government that is against the farmers, he added.