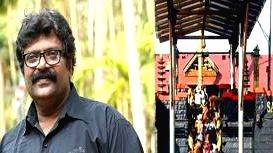 Director-Writer Ali Akbar has put up an astounding Facebook post against some of the observations of the Supreme Court, which on Friday delivered the verdict that allows women of all ages to enter Sabarimala.

The Supreme Court had said that there is no ban on even menstruating women to enter temples.

Menstruation is not impurity but menstrual blood is impurity. Hence the belief that one should not touch a menstruating woman inside a temple is also his right, says Ali Akbar.

FB post excerpts -
"Menstruation is no impurity but the menstrual blood is not pure. Food is not impure but when it gets converted to sputum, it is impure. Water is pure but when it gets becomes urine, it is part of impurity.
We consider all emissions from the body, as per nature's law, as part of impurity. They include saliva, phlegm, sputum, urine, menstrual blood and sperm.

All these become waste or garbage when the body emits them (Imagine the noise you would make when you spot a hair in your food). The above wastes are not pure and science says that they can be bearers of disease causing germs. Society that realised this long back made a system for all this."

Ali Akbar concludes his lengthy post by saying that the court doesn't know the condition of a woman who has to run out to change her menstrual pad, while standing in a queue 8 to 10 hours for darshan. That is why the court feels that there is no harm if a woman goes to temple while she is menstruating.

"The belief of a person that he should not touch a menstruating woman is also his right. I give my opinion here with due respect to womanhood," he adds.