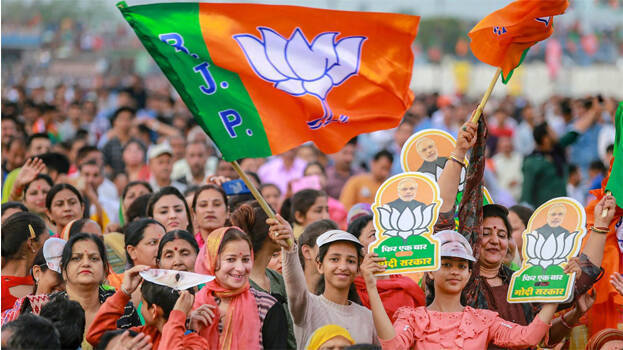 DEHRADUN: The BJP has created history in Uttarakhand. The party has written a new history in the state by crushing Congress. The Congress had presented a tough fight with the BJP, which had maintained a lead from the very beginning. However, BJP achieved strong dominance in the state as the counting progressed.
BJP has a lead in 44 out of 70 seats. Congress secured lead only in 22 seats. The BSP is leading in two seats. While the independent candidates were seen leading in two seats, AAP was unable to win atleast one. The exit poll surveys had predicted that AAP will win one seat in the state. The party which went into the Uttarakhand poll campaigns chanting 'Give AAP a chance' was disappointed with the results.
The BJP has emerged triumphant in Uttarakhand, a state where all the poll surveys predicted severe competition. Among the five states, Congress had kept its hopes way high in Uttarakhand. The state was formed as the 27th state in the country on November 9, 2000. There are 13 districts in the state. Its capital is Dehradun and has a population of 11 crores. The state is spread across an area of 53,483 sq. kms.
In the first assembly polls, since the state formation, Congress came to power by winning 36 out of the total 70 seats. However, in the last assembly polls, BJP formed government after emerging victorious in 57 seats. At the time, Congress was able to secure only 11 seats. Others had won two seats. The state has been ruled alternately by the Congress and the BJP every five years. The BJP has created new history by retaining its lead and securing victory.
Meantime, the chief ministerial candidates of BJP and Congress are in fear of defeats. Congress candidate Bhuwan Kapri is leading against Uttarakhand Chief Minister Pushkar Singh Dhami in the Khatima constituency. The defeat of Congress' chief ministerial candidate Harish Rawat is almost confirmed. BJP candidate Mohan Singh Bisht is leading against Harish Rawat with around 7,000 votes. Harish had contested from the Lalkuan constituency.