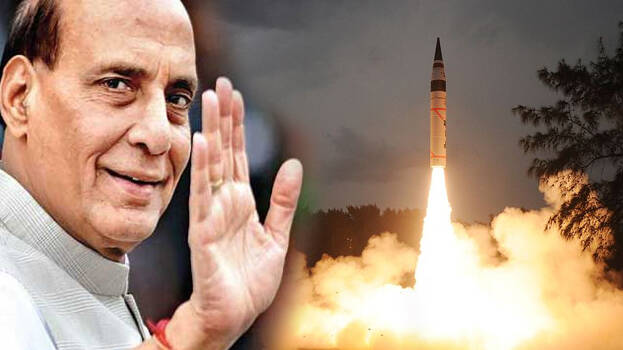 NEW DELHI: Defense Minister Rajnath Singh has officially responded in the Parliament regarding the launch of a missile from India across the Pakistan border. Defense Minister told Parliament on Tuesday that it was unfortunate that missiles were fired at Pakistan and that the government was considering the matter seriously.
"A missile was unfortunately accidentally launched on March 9. The incident occurred during a routine inspection. We later came to know that it had landed in Pakistan. I would like to inform the House that the government has taken serious note of the incident. A formal high-level inquiry has been ordered. The inquiry would determine the exact cause of the said accident," he said. "Thankfully, no damage was reported due to the accidental launch of the missile," he added.
"Our operations, maintenance, and inspections are conducted following a set of standard operating procedures, which are being evaluated. Any laxity found in the safety and security of our weapons systems will be dealt with immediately. Our missile system is extremely trustworthy and secure. Our armed forces are experienced in handling such systems," he said.
On March 9, an Indian missile crossed the border and landed near Mian Chanu in Pakistan's Khanewal district. Pakistan has blamed the missile for the damage, though no casualties were reported. But the United States has said it has not received any indications other than that it was an accident.