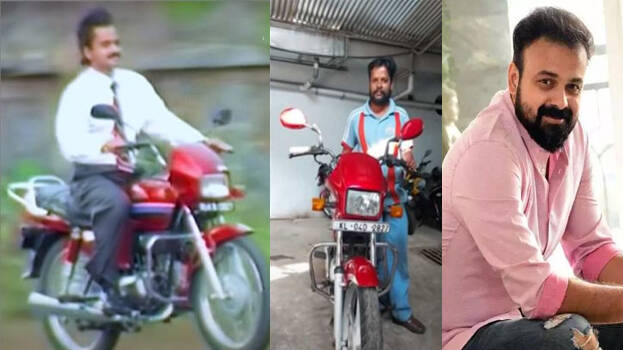 25 years have passed since the release of 'Aniyathipraavu'. At the time of the film's release, along with the love affair between Sudhi (Kunchacko Boban) and Mini (Shalini), one more thing had caught everyone's attention; Sudhi's red Splendor bike.
The bike used in the movie was later bought by Bonnie, an employee of a private vehicle showroom in Alappuzha. However, Kunchacko Boban has now reclaimed the bike after quarter of a century since the movie's release.
It was only after I bought the bike that people began to recognise it as Sudhi's bike from 'Aniyathipraavu', said Bonnie. Later, a number of YouTube channels came to me and shot it. One day, Kunchacko Boban called me and asked me if I could give him the bike quickly, he said.
The next day a man approached me and asked me, 'What is your demand? Do you want money?'. I told him that I go to work on that bike. If I sell it, I would need another vehicle. Later, Chackochan called and asked me to buy which ever vehicle I like. So I took a new model of the Splendor. They purchased it for me instantly, said Bonnie to a private channel.