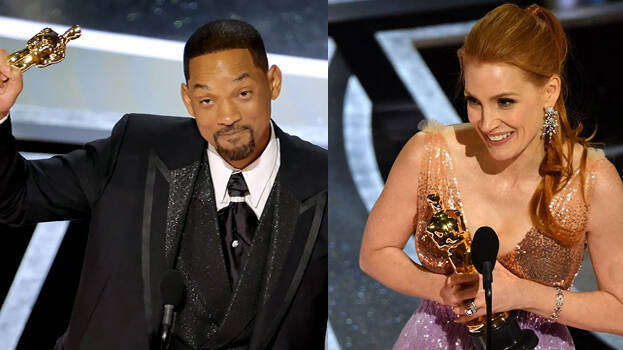 LOS ANGELES: Jessica Chastain has bagged the Oscar for Best Actress for her performance in The Eyes of Tammy Faye.Will Smith has won the award for Best Actor for King Richard. There were five nominations in the Best Actor category. Will Smith is the fifth black man to win an Oscar.
'King Richard' is a sports drama film directed by Reinaldo Marcus Green based on the lives of Tennis players Venus Williams and Serena Williams. Will Smith played the role of Richard Williams in the movie.
Best Director - Jane Campion
Jane Campion has won this year's Oscar for the Best Director for his film 'The Power of the Dog'.
Best Supporting Actor – Troy Kotsur
Troy Kotsur won the award for the Best Supporting Actor for his performance in CODA.
Best Supporting Actress – Ariana DeBose
Ariana DeBose won the Oscar for the Best Supporting Actress for her performance in Steven Spielberg's West Side Story.
Dune bags six awards
American Sci-Fi movie Dune is the big winner with six Oscars. Dune won awards for Best Original Score, Best Sound, Best Film Editing, Best Visual Effects, Best Production Design and Best Cinematography.
Best Short Film (Animated) – The Windshield Wiper
Best Live Action Film – The Long Goodbye
Best Makeup and Hair – Linda Dowds (The Eyes of Tammy Faye)
Best Visual Effects – Paul Lambert, Tristan Myles, Brian Connor and Gerd Nefzer
Best Documentary (Short Subject) – The Queen of Basketball
Best Cinematography – Craig Fraser (Dune)