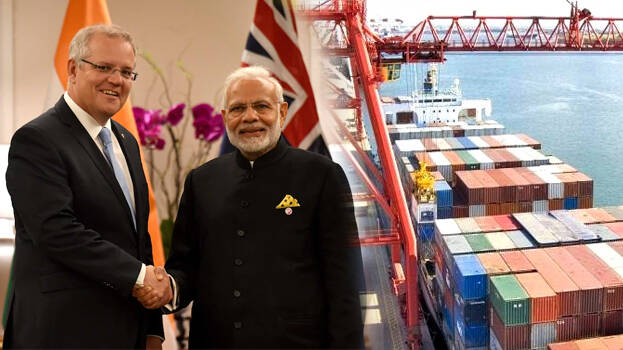 NEW DELHI: Chinese and Russian ministers had recently arrived in India for talks with the central government on defence and trade issues. These visits were a reflection of India's strong stance in various fields. While the Chinese Minister invited National Security Adviser Ajit Doval to their country for talks, Russia said that it will do anything for India. Now, Australia has entered a free trade agreement with India.
India-Australia Economic Cooperation and Trade Agreement (IndAus ECTA) was signed by Union Minister of Commerce and Industry Piyush Goyal and Australian Minister for Trade Dan Tehan in a virtual ceremony in the presence of Prime Minister Narendra Modi and Australian PM Scott Morrison.
This trade pact will create one million jobs in the next 4-5 years, says Piyush Goyal, Minister for Commerce and Industry. This is the first trade agreement with a developed economy after more than a decade. This agreement will be signalling for other developed countries' agreements such as the UK, Canada and the EU, with whom India is currently negotiating for free trade agreement.
"We expect 1 million jobs creation in India in next 4-5 yrs. A number of new opportunities will open for Indian chefs and Yoga instructors in the time to come. We've also discussed the cooperation of education institutions between India and Australia," Goyal said.
"We're removing trade barriers which will lead to doubling of trade in the future that'll have great potential for labour-oriented sectors. This free trade is expected to take bilateral trade from the existing USD 27 billion to nearly USD 45-50 billion in the next 5 years," he added.
Prime Minister Narendra Modi said that the India-Australia Economic Cooperation and Trade Agreement is a "watershed moment" for bilateral ties. The interim free trade deal aims to eliminate 85 per cent tariffs on Australian goods exports to India.
"Consensus on such an important agreement in such a short period of time shows the mutual trust between the two countries. This is truly a watershed moment for our bilateral relations," PM Modi said at a virtual signing ceremony of the agreement.
He added that the newly signed trade deal will contribute to the increasing supply chains resilience and stability of the Indo-Pacific region.