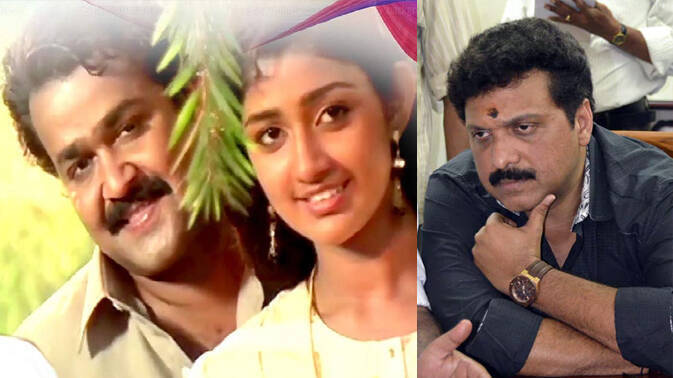 The song Vellinila Thullikalo from the film Varnapakittu is still popular among the Keralites. Mohanlal and Meena became the favourite star pair in the Malayalam film industry through this song. The other songs in the film composed by Vidyasagar also became super hits. The film released on April 4 in 1997 is completing 25 years. The film was completed after overcoming many obstacles. Even after the film ran for 180 days in theatres, the producer suffered heavy financial losses.

The film was completed with an amount of Rs 2.5 crore at that time. That is the budget of three Mohanlal films of that time. Apart from Meena, Divya Unni was another heroine in the film. Scriptwriter Babu Janardhanan remembers that Divya coming to the film is a big story.

'The second schedule of the film was in Kottayam. An actress playing heroine roles in some films at that time was invited as second heroine. She was called to play Nancy, wife of Paulachan played by Dileep. But she backed out from the film when knowing that there is a scene where Ganesh Kumar tries to sexually abuse her. She feared that the scene would affect her image.

Though another actress was considered, she was avoided as she did not know dance. There was pressure to complete the film as Mohanlal had to go for the shooting of Iruvar. That time saw a cover magazine of Divya Unni. Told about it to I V Sasi.

He said he is not coming and asked me and Joekuttan to go and talk to her. As per his direction went to Divya Unni's house. As a heroine, she had only acted in Vinayan's 'Kalyana Saugandhikam' at that time. Neither Divya Unni nor her mother, a teacher believed that she was invited for Mohanlal's film. We made her hear the song 'Manikya Kallal' - they did not believe when we told them that she will be doing the song with Mohanlal. Finally, made them believe.

Johnny Sagarika had told me that a week before Divya Unni came to act in the film, she wanted to take a picture with Mohanlal at an event in Ernakulam and was able to take one only after he recommended. Divya was excited to act with Mohanlal. Divya turned a busy actress after that film, said Babu Janardhanan.