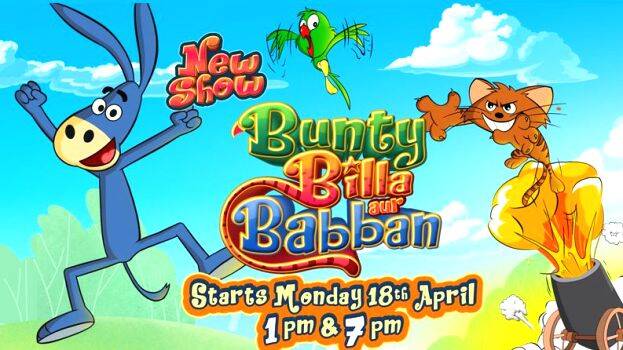 MUMBAI: Don't we all have that one friend who is annoying yet endearing to the core? Or that mischievous sibling we can't live with but also can't live without? If yes, then brace yourselves as the 'Badmashi Ke Baap' descend in your living rooms to make you chuckle with their hilarious antics. Produced by Toonz Media Group, this summer, Discovery Kids has triggered a laughter riot with its new animated series 'Bunty Billa Aur Babban' slated to release on 18th April at 1 PM and 7 PM.
Following the trailblazing success of 'Little Singham' and 'Fukrey Boyzzz', which have created a benchmark in kids genre and Indian animation, Discovery Kids leaps ahead with this new slap-stick comedy series that is going to make the kids go 'ROFL'. The show follows the contrasting duo Bunty (The Parrot) and Billa (The Cat) who live in the same house. While Billa's ambitions rest in living an easy life, he is annoyed with the hysterics of Bunty who never stops troubling him. Bunty unleashes a mayhem in the house, inciting chaos, and confusion everywhere. Adding to this madness further, Babban, the donkey also joins the duo, escalating the fun conflicts and comic situations. All this animated madness packaged with 'bollywood inspired tadka' voiceover to further enhance the entertainment quotient.
"Laughter is the best medicine and the best form of entertainment. We are on a journey to innovate our offerings and create franchises out of characters that not only engage but also help expand our consumer footprint and provide a healthy dose of entertainment. Bunty Billa aur Babban the slap-stick comedy is fun addition to our existing differentiated IPs including stylish and action-packed super hero in town 'Little Singham' and best slice of life school comedy 'Fukrey Boyzzz' that will further cement Discovery Kids' position as the most preferred brand in the kids' category. The fun-filled gags, the exaggerated expressions and non-stop entertainment in Bunty Billa aur Babban is sure to create a joyful viewing experience not just for the kids but the entire family as well. After all, who doesn't like a good laugh?", said Uttam Pal Singh, Business Head, Discovery Kids.
"We are truly excited to partner with Discovery Kids for Bunty Billa aur Babban. This is Toonz's first collaboration with Discovery Kids and we are really happy to forge this association with Bunty Billa aur Babban, which is a show that has tremendous potential to turn into a hugely successful kids IP. The show brings back the innocent charm of playfulness and hearty humour, with many beautiful moments to engage and enrapture the young audience," said Toonz Media Group CEO P Jayakumar.
Toonz is a 360-degree media powerhouse with over two decades of unparalleled experience and one of Asia's most active animation production studios (over 10,000 minutes of 2D and CGI kids and family content per year). Having worked with the world's leading entertainment studios, channels, and networks including Marvel, Nickelodeon, Turner, Disney, Netflix, Dreamworks, Lionsgate, 20th Century Fox, Paramount, Sony, Universal, BBC, Amazon, Google, Hulu, HBO, CMG and Exodus Film Group, Toonz has to its credit several animation and live-action series, as well as feature films. Toonz has produced some of the most highly-rated international shows such as Wolverine and The X-men with Marvel, Speedracer Next Generation with Lionsgate, Mostly Ghostly with Universal, Playmobil with Sony, Dragonlance with Paramount Pictures, Freefonix with BBC, Gummybear and Friends, and Fruit Ninja with Google and many more. Currently under production at Toonz is Paddypaws in partnership with celebrated creator Keith Chapman, JG and the BC Kids with renowned American actress Janet Hubert, Sunnyside Billy conceptualized by the legendary Olivier Jean-Marie and Pierre the Pigeon Hawk featuring a star voice-cast of Whoopi Goldberg, Will.i.am, Jennifer Hudson and Snoop Dogg. Toonz has also ventured into the NFT space by launching a first-of-its-kind NFT design lab, Toonz NFTLabs, in association with blockchain R & D company.