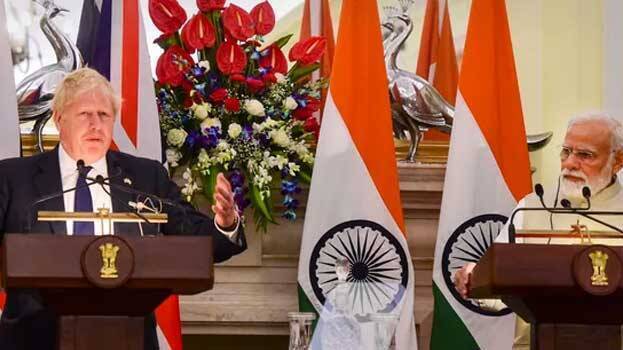 NEW DELHI: British Prime Minister Boris Johnson reached Gujarat for a two-day visit the other day. The aim behind the meet was to strengthen cooperation with India in sectors of security, defence, energy and trade.
Prime Minister Narendra Modi said that the visit of the British Prime Minister to India on the occasion of the 75th anniversary of India's independence is historic. The two leaders discussed the progress of the Free Trade Agreement between the two countries, the climate commitments adopted in Glasgow and the independent Indo-Pacific.
Boris Johnson said he aims to forge a new free trade agreement with India by Diwali. The officials have been instructed in this regard. Boris said that instead of India reducing tariffs on certain products, Britain would also waive some tariffs. The British Prime Minister said he hoped the two countries would co-operate in the health sector.

The two countries agreed to make the Indo-Pacific region free and independent. The British Prime Minister described it as a deal that would last for decades.
Modi said India wants to continue its free trade agreement with Britain and strengthen defence cooperation. Climate cooperation will also continue. He also discussed the reforms in the country with the British Prime Minister. Modi welcomed the investment of British companies in India.

Reforms in infrastructure development in India were also discussed. Boris Johnson said that the bilateral ties strengthened after the meeting. Ukraine and Afghan issues were also discussed in the meeting.