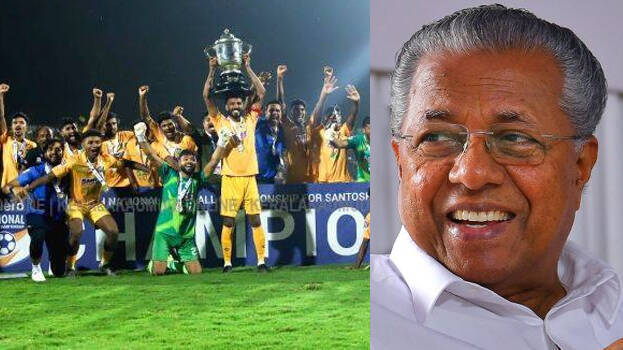 MALAPPURAM: Chief Minister Pinarayi Vijayan congratulated the Kerala team for winning Santosh Trophy. He said this glorious victory gives us hope about the future of the sports sector. The chief minister congratulated the team through a Facebook post.
The chief minister's post said the crowd that flowed to the matches and the support they gave was something to take note of. He added that this success will inspire us to move forward better and achieve greater things.
Facebook post
Congratulations to the Kerala football team who won the Santosh Trophy and made Kerala number one in the field and became the pride of the country. This glorious victory gives us hope for the future of our sports sector. The huge crowd that flocked to the match and the support they provided was remarkable.

This success will inspire you to move forward and achieve greater things. It will energize the sports culture of Kerala and take the sports sector to new heights.

We heartily congratulate every football team member, coach and other staff member who gifted us with this success. Special thanks to Safnad for scoring the goal for Kerala with a superb header at the crucial moment.