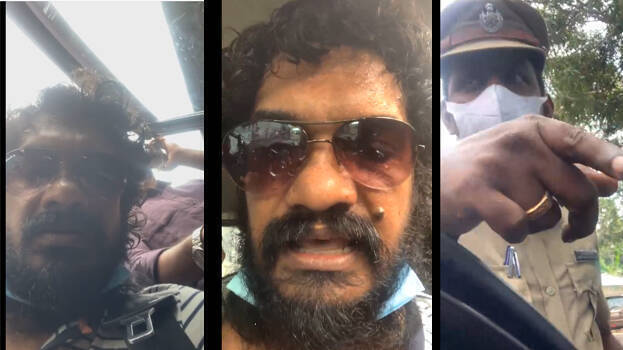 THIRUVANANTHAPURAM: Director Sanal Kumar Sasidharan has been taken into police custody from his house in Neyyattinkara. The action was taken following Manju Warrier's complaint that he had stalked and threatened her on social media. Sanal Kumar Sasidharan has shared a live video of him resisting the police custody, on Facebook.
"They are going to grab my mobile phone. I am being kidnapped by several people. They are attacking me. Some goons claiming to be police are taking me away. They are trying to kidnap me. Somebody please interfere", he said on a Facebook live.
"They are taking me to kill me. Me, my sister and her mother-in-law had come for an event at the temple. Then, an Innova car followed me. They are trying to take me forcefully.
The police have not informed me about any complaint registered against me. I am ready to follow that case. I am ready to surrender as per the law. But they are pretending to be policemen and are trying to kill me. I have no problem if due process of law is followed. I have lodged a complaint with the President and the Chief Justice stating that my life is in danger.
I am standing by what I have said. Manju Warrier's life is under threat. I said it because I know it. They are trying to kidnap and kill me. I have been saying this for the past two years.
My life is in danger because of the movie 'Kayattam'. Not just mine, but Manju Warrier's life is also in danger. Still I don't know, if Manju Warrier is alive or not. Nor do I know whether the alleged case was filed by her. It's been days since I made this post. Many newspapers had reported it then. Manju Warrier has not responded or done anything for so long", said Sanal Kumar Sasidharan.