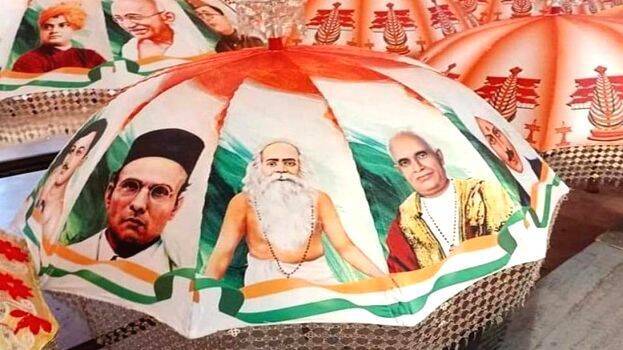 KOZHIKODE: With only hours left for Thrissur Pooram, controversy is raging over the Azadi umbrella. The controversy erupted over the involvement of RSS leader VD Savarkar in an Azadi umbrella featuring portraits of freedom fighters and the country's renaissance leaders. Congress leader T Siddique MLA also came with criticism against this.
In a Facebook post, he said that Savarkar could not be included with great personalities like Mannath, and that this is a sample firework of agendas. He further added that time won't forgive those who support agendas.
Earlier, the Youth Congress had also come out with criticism against the umbrella.
Meanwhile, the 'chamaya pradarshanam' of Paramekavu and Thiruvambadi Devaswoms started today. The Thiruvambadi Devaswom exhibition was inaugurated by Revenue Minister K Rajan and Paramekavu's exhibition was inaugurated by former Rajya Sabha MP and BJP leader Suresh Gopi. Celebrities, including Governor Arif Mohammad Khan, will visit the exhibition tomorrow.