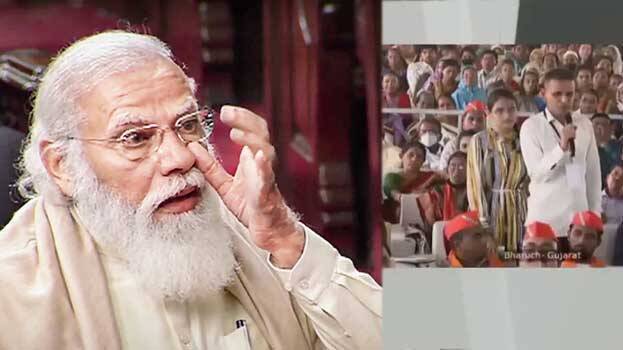 GANDHINAGAR: Prime Minister Narendra Modi got emotional at an event organized for the beneficiaries of various government schemes in Gujarat. He also promised to fulfill the dream of a visually impaired man's daughter to become a doctor, while attending 'Utkarsh Samaroh' in Gujarat's Bharuch.
The event in Bharuch marked the complete saturation of four key government schemes in the district that aims to provide timely financial assistance to the needy. The prime minister took part in the event via video conferencing. Modi has turned out to be the saviour in the lives of Ayub Patel, a visually impaired man, and his daughter. During the event, Patel shared about his ordeals and his daughter's dream, while interacting with Modi. An emotional prime minister promised the girl to help her fulfil her dreams.
Meantime, Modi said that due to lack of information about government schemes, they are either remaining on paper or people not entitled to them are taking the benefit.
Utkarsh initiative was launched to ensure the complete coverage of schemes providing assistance to widows, elderly and destitute citizens. The district administration has identified a total of 12,854 beneficiaries across the four schemes.