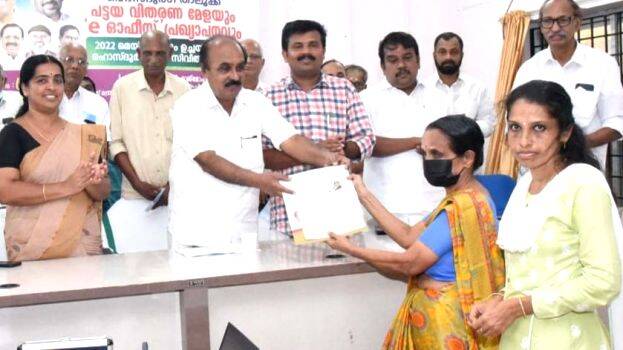 After a long legal battle and waiting, the government has given five cents of land to 70-year old Valliyot Shyamala and her daughter Mani, who lives in a rented house in Chembrakanam, Kasargod. Although the news is positive, Shyamala's suffering is an example of the never-ending corruption in the village offices and the misconduct of some officials.
In 2014, Shyamala was allotted three cents of land in reserve number 381/1 A8D at Padikkeel in Kodakkad village through the Zero Landless project in Kerala.The Pilikode panchayat has also sanctioned money for housing through the Life project. But when she was preparing to build a house in 2018, the neighbor chased him away, claiming the land was his. Shyamala and Mani approached several revenue offices for justice, but no one pay heed to their request. Meanwhile, Shyamala fell ill and became unable to go to work. The only source of income for the family is the daughter's wage earnings. Mani's husband is bedridden due to illness. She has two children.
Kerala Kaumudi published about her plight and it is then things improved. The District Collector sought the report as per the directions of the Minister of Revenue.
An investigation by the deputy tehsildar found that it was difficult to build a house here. The village officer at the time claimed that the land was not available when the minister proposed to replace it. But the newly arrived village officer Santosh Valiyapoyil informed that five cents of land could be allotted on Reserve Road No. 349/93 on the roadside.
Then at a function held at the taluk office on Thursday, E. Chandrasekharan MLA handed over the pattayam in the presence of officials. Revenue Minister K.S. Rajan also participated online.Many programs announced by the government with good intentions are being thwarted by a section of corrupt employees. Shyamala's problem could have been solved within twenty-four hours. It was delayed because of the attitude of some officials. Although action has been recommended against them, that file might be delayed as well.
There are frequent reports of bribery by some Revenue Department employees. When a large section of employees work honestly and sincerely, a small section is still corrupted. Government must take strict action in order to stop corruption.