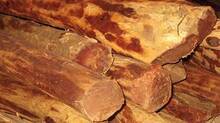 KOCHI: The forest department's flying squad has seized 92 kilogram of sandalwood from a rented house in Panampally Nagar. The sandalwood, which was kept for sale, was found in a search in the house. The house has been rented by a man named Saju Sebastian.
Hints suggest that the sandalwood was brought from Idukki. The search was conducted on the basis of the inputs from the intelligence. As per the inputs, the police were informed about a sandalwood sale in the house.
Following which, a search operation was launched, said the range officer. Five people, including three who came to buy sandalwood, were nabbed. Further investigation will be conducted to find out whether more people are involved in the incident, said the police.