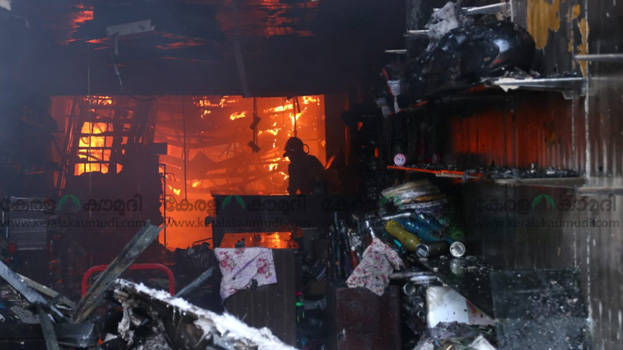 THIRUVANANTHAPURAM: The fire that broke out at a business firm in the capital city is partially under control, said officials of the fire force department. The fire was partially doused by 12 fire force units in one and a half hours. Meantime, efforts to douse the fire engulfed at the back of the building is still continuing. Fire force units including Panther from the airport have reached the spot for it.
The fire broke out at Chellam Umbrella Mart at Overbridge near Power House Road at 9.30 am Tuesday morning. The fire spread when employees reached after seeing smoke from the top floor of the building. Following that, fire force units reached and took efforts to douse the fire.
People from nearby buildings were completely evacuated taking into account the dangerous situation. Though fire spread to nearby buildings, the unit was able to stop fire from spreading to more buildings. Chellam Umbrella Mart and its godown were completely set ablaze.
In the midst of rescue operations, a fireman sustained injuries. Santhosh from Chengalchoola fire station sustained injuries. Minister Kadakampally Surendran, Mayor V K Prashanth, V S Sivakumar MLA, C Divakaran, V Sivankutty and many others reached the spot and evaluated the situation.