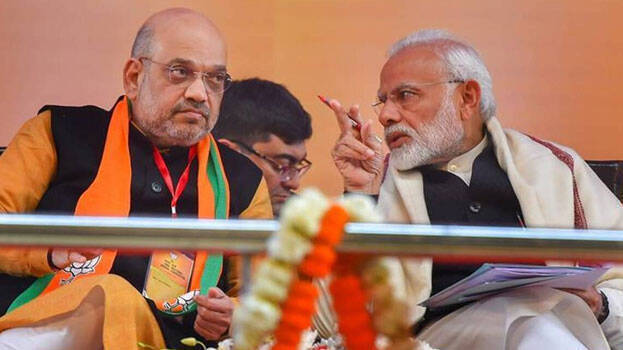 JAIPUR: Prime Minister Narendra Modi disagreed with Union Home Minister Amit Shah on the Hindi language issue. The BJP sees a reflection of Indian culture in every regional language and considers them worth worshipping. We have given importance to every regional language. Language and cultural diversity are the country's self-esteem, said the prime minister.
Recently, Amit Shah had opined that when citizens of different states communicate with each other, it should be in Hindi other than English. Modi's differing view comes in the backdrop of the prevailing controversy. The prime minister stated his opinion on the issue while addressing national office bearers of the BJP in a meeting, held in Rajasthan's Jaipur, via video conference on Friday.
Modi said that despite achieving huge success, the BJP has not reached its goal. "During Jan Sangh's time, we were on the margins, nobody knew us. Despite that, our workers adhered to the policies of nation-building. We were miles away from attaining power but then also smallest of our workers remained patriotic. We are setting the aim for the next 25 years, it's the time for the BJP to set the targets for the next 25 years along with consistently working for the people of India to fulfil their aspirations along with wading through all the challenges," he said.
The meeting is being held under the leadership of BJP national president J P Nadda. People including the party's national and state office bearers, organizational secretaries among others will participate in the meeting. The meeting will also discuss measures to be taken to ensure the party's victory in the upcoming assembly polls.