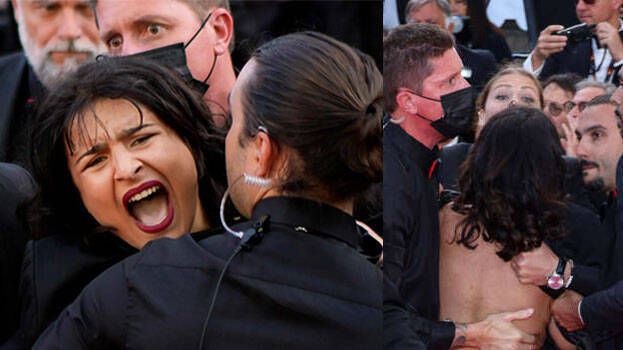 A topless woman staged a protest at the 75th Cannes Film Festival, shocking the viewers. The woman arrived at the festival venue with 'Stop raping us' written on her body. The incident was a solo protest against the sexual violence in Ukraine.
The woman, who had painted the colours of the Ukrainian flag on her body, also posed for photographs before being led off by security guards. She had fell on her knees screaming and was soon covered with a coat by the security guards. The protest had crashed the red carpet premiere of George Miller's 'Three Thousand Years of Longing' on Friday.
Ukrainian President Volodymyr Zelensky had earlier said that hundreds of rape cases, including sexual assaults of small children, were reported in areas previously occupied by Russian troops. He had also launched a video appeal for aid for his country at the Cannes opening ceremony.
Meantime, the woman's protest have raised questions over the effectiveness of security at the Cannes. Numerous security officers have been deployed in areas both inside and outside of the venue. Hence, many have expressed doubts over how the woman managed to enter the premises.