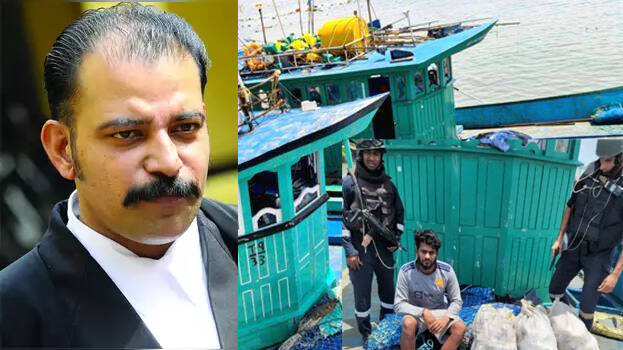 KOCHI: Controversial Criminal lawyer BA Aloor appeared in court on behalf of the gang arrested by the Directorate of Revenue Intelligence (DRI) with heroin worth Rs 1,500 crore near Lakshadweep. Aloor said that he was providing legal assistance because the arrested persons included Malayalees.
Advocate Aloor has made headlines by appearing for the accused in several controversial cases. He represented Govindachamy, the accused in the Soumya murder case, Amirul Islam, the accused in the Jisha case and Jolly in the Koodathai case.
The drug gang, which was caught with heroin worth Rs 1500 crore, has Pakistan links, said Directorate of Revenue Intelligence (DRI). According to the authorities, four Tamil Nadu natives of the gang are part of a Pakistan network, as mentioned in the remand report. The report was released by a private channel.
Inscriptions indicating Pakistan ties were found on the sacks filled with heroin. The involvement of two fishermen, natives of Thiruvananthapuram, is also being investigated. According to their statement, both of them came to the boat for work. They are reportedly natives of Pozhiyur.
Meantime, it has been found that the drug boats had targeted Indian coasts. The heroin, which was taken out to sea in an Iranian boat, was handed over to two boats anchored here. These boats were caught in a joint operation, launched by the Directorate of Revenue Intelligence (DRI) and coast guards, nearby Agatti in Lakshadweep islands.
Two months ago, the DRI was informed that two boats would smuggle drugs from Tamil Nadu. As per hints, the boats were expected to leave in the second or third week of May. Following which, the DRI and coast guards launched 'Operation Khojbeen'. The DRI officers also set sail on the Indian Coast Guard (ICG) ship Sujeet. The two boats namely Prince and Little Jesus, were caught after days of surveillance.
The officers surrounded the boats and entered inside on May 18. On being questioned, some of the workers revealed that drugs were loaded on the boat. The drugs were hidden in 218 packets of one kilogram each in various compartments of the boat.