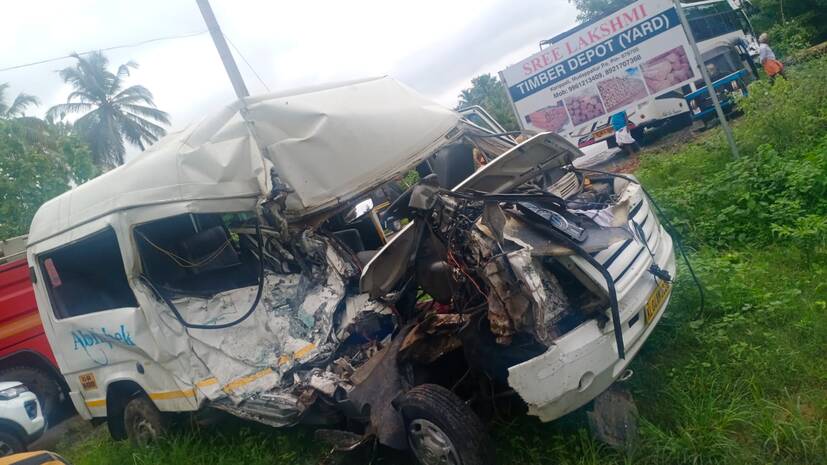 VADAKKANCHERRY/CHERTHALA: A couple returning after Velankanni pilgrimage was killed when a tourist bus collided with a tempo Traveller. The deceased have been identified as Arthunkal natives Paili (75) and his wife Rosili (65). 17 people were injured. The accident took place on the state highway in Govindapuram in Vadakkancherry at 11.30 am yesterday. The tourist bus was going from Thiruvalla to Palani and theTempo Traveller was going from Velankanni to Alappuzha.
The tourist bus went out of control when it braked in heavy rain and collided with the Traveler. The Traveller was completely destroyed by the impact of the collission. Vadakkancherry police, fire brigade and locals rushed the passengers to the hospital.
Paili's son Prince (31), brother Varghese (57), wife Jessie (50), daughter Varsha (24), cousins ​​Baiju (50), wife Prasanna (43), daughter Jessia (16) and cousin Shoji (36), his wife Kunjumol (34), children Manu (12), Minnu (7), Traveller driver Akhil (32), Lovely (39), Sajini (49), Santha (60), Kunjumol (60) and Abhishek (20) were also injured.
The condition of Varghese, Jesse and Akhil is critical. They are being treated at a private hospital in Nemmara.
After the postmortem, the bodies will be buried at Arthunkal St. George Church Cemetery. Paili's children: Prince, Princy, and Rinsey. Sons-in-law: Samuel and Peter.