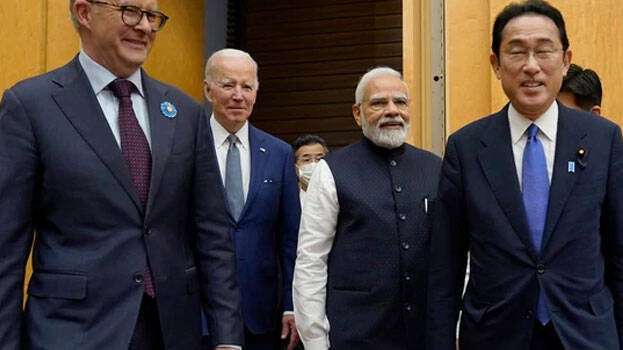 TOKYO: World leaders praised India and Prime Minister Narendra Modi at the Quad Summit.
While criticizing China, US President Joe Biden praised India for its Covid defense.
"Myth that autocracies like China and Russia can handle the rapidly changing world better because their leadership can take and implement decisions without going through lengthy democratic processes. Despite being the same size, India succeeded in handling Covid. China has failed miserably. ' - Biden said.
U.S. sources said that Biden's address praising Modi was unscripted as he made a special intervention during the speech.
Australian Prime Minister Antony Albanese described India's distribution of vaccines to other countries as India's strength and success.
The Prime Minister of Japan Fumio Kishida congratulated India on the fact that Thailand and Cambodia have gratefully accepted the Indian - made vaccines distributed under the Quad Vaccine Initiative.
Russian and Chinese warplanes near Japan
As Japan hosted the quad summit in Tokyo, Russian and Chinese warplanes flew in a joint operation, Japanese defense minister Nobuo Kishi said. The flights that flew over the East China Sea have not violated the local airspace. This is the fourth time since the last November that Russian and Chinese warplanes have flown close to Japan.
At the same time, the Russian defense ministry said that their TTU-95MS fighter jets and China's H-6K fighter jets did a joint routine strategical patrol over the Japan Sea, East China Sea and Western Pacific and didn't violate international airspace.