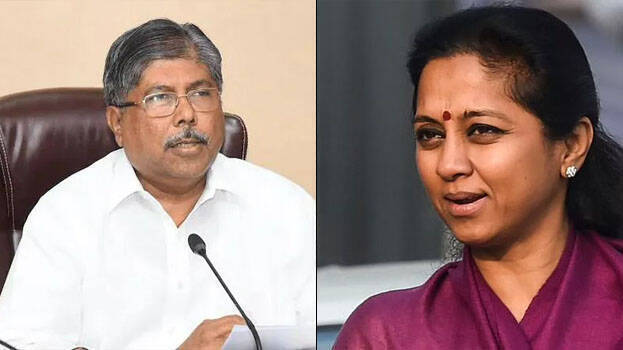 MUMBAI: BJP leader Chandrakant Patil's anti-women remarks against a woman MP have stoked a controversy. He made sexist comments against National Congress Party (NCP) MP Supriya Sule and said that "If you don't understand politics, go home and cook".
Supriya was talking about OBC reservation at a party meeting the other day. She then raised questions on how the BJP-ruled Madhya Pradesh got relief from the Supreme Court over OBC reservation. "The Chief Minister of Madhya Pradesh came to Delhi and met 'someone'. I don't know what suddenly happened over the next two days and they got a go-ahead for OBC reservations," she said.
Chandrakant Patil, who was triggered by Supriya's statement, in response said, "Why are you in politics? Go home and cook. You are in politics and you don't understand how to meet a CM? You go to Delhi or go to hell or wherever, but give reservations."
Meantime, Supriya's husband, who remains away from politics, has reacted strongly in the issue. "I have always maintained that the BJP are misogynistic and demean women whenever they can. I am proud of my wife who is a homemaker, mother, and a successful politician, one amongst many other hardworking and talented women in India. This is an insult to all women," he wrote on social media.