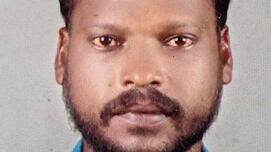 ARYANADU: A man who tried to commit suicide by pouring petrol on his body, after going to the police station with a demand to find his wife, died at the Medical College Hospital. Shaiju (42), son of late Maniyan and Prasanna of Thengukonam Puthen house, died in the unfortunate incident.
He arrived at the Aryanad station at around 2 pm on Friday with a complaint and set himself ablaze after pouring petrol over his body. Police rushed him to the Medical College Hospital. The death occurred at 8 a.m. yesterday.
Shaiju is a rubber tapping worker in Puthoor in Kottarakkara. On the 25th, he had lodged a complaint at the Puthoor police station that his wife, a native of Parandottu in Aryanad, who was staying with him, was missing. The woman was arrested at the Thiruvananthapuram Medical College premises and produced before a court but refused to go with him and went with her brother.
When he came to Puthoor station on Friday morning, the police informed him that the woman had gone with her brother as per the court order. From there he reached Aryanad station at around 2 pm under the influence of alcohol.
He was sent back by the police on the assurance that his wife would be traced, he set himself ablaze on the steps of the station. Sister: Sheeja.