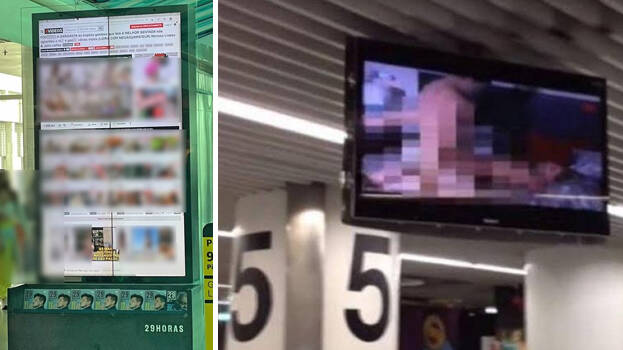 RIO DE JANEIRO: A porn video was shown on a display board placed for advertisements in Rio de Janeiro airport in Brazil. The incident took place last Saturday. Preliminary investigation revealed that hackers were behind the incident.
The porn video was played at Santos Dumont, the second airport in Rio de Janeiro. Within minutes after the video display, airport officials cut off power to the display boards and fixed the problem, but footage of the incident had been widely circulated on social media.
Investigators believe the hackers used the server of a private advertising company which was given contract to display ads at the airport. Airport officials told the media that the advertising agency's contract had been canceled following the incident.
This is not the first time a porn video has been shown at an airport. A similar incident took place in 2010 at Dhaka Airport in Bangladesh. Porn video suddenly appeared on the display board at Hazrat Shahjalal Airport. The investigation revealed that this was due to the hacking of the screens. Five years later, Lisbon airport officials faced a similar problem. The video was widely circulated on social media at the time. A similar incident took place recently at Taipei Taiyuan Airport in Taiwan. On April 9, 2017, a porn video appeared on the LED wall of the Rajiv Chowk station of the Delhi Metro.