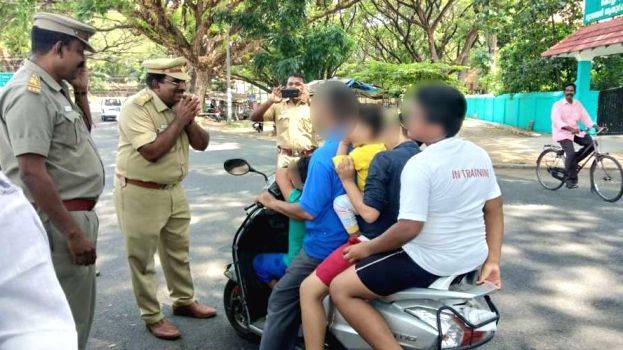 FORT KOCHI: Vehicle inspector who was on a routine inspection stopped the scooter of a middle-aged man carrying four kids. Witnessing such a scene for the first time in his service period, vehicle inspector N. Vinodkumar sarcastically folded his palms in front of the passenger. Others who were watching this clicked a photo of the MVI standing with folded palms. This picture has now gone viral on social media.
The incident was on May 22. The rider was fined Rs 2100 for violating several traffic rules.
Rs. 1000 for not paying insurance, another Rs 1000 for exceeding the passenger limit and Rs 100 for not wearing a helmet. Vehicle inspector Vinodkumar is happy that the picture might help in the awareness of road safety.