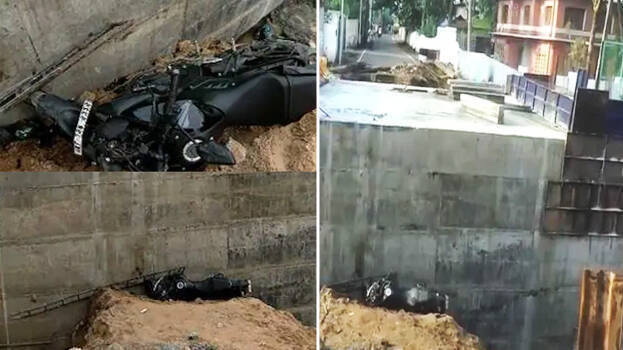 KOCHI: A case has been registered against the contractor engaged in construction of the bridge in connection with the death of a youth in a bike accident in Thrippunithura yesterday morning. A case has been registered under IPC 304 A. Vishnu died after his bike hit the bridge under construction on Thrippunithura Market Road. Vishnu's father complained that his son died due to the negligence of the authorities and the contractor. Public Works Minister Mohammad Riyas said that strict action will be taken in the incident. Danger signs should have been installed in places where work is going on. Officials will examine the lapses. He said that an urgent report has been sought from the public works secretary.
The work of the bridge by the public works department has been dragging for months across the market road. Many officials had assured that the work would be completed soon. However, all the assurances were flowing like a line drawn in the water. This allegation has been around since the work started. However, there has been no change. The public works department is continuing the renovation work on the road where many vehicles were passing by. Traffic in the area has been stalled in the area.
Adarsh ​​and Vishnu, both from Erur were on their way from Puthiyakavu when the accident happened. Vishnu died in the accident that happened in the morning. The locals said the cause of the accident was the lack of security on the side of the bridge. Only two barrels of tar were kept on the road. The incident took place near the police station.
There is a deep pit between the road and the bridge. The youths were not aware of it as it was early morning. The authorities are the main culprits in the incident. It has been widely criticised that the case has been registered against the contractor to cover up the shortcomings of the public works department.