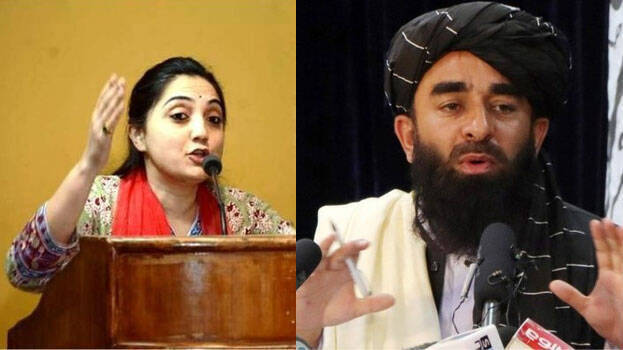 NEW DELHI: The Islamic fundamentalist organization Taliban has condemned the controversial remarks made by now-suspended BJP national spokesperson Nupur Sharma during a television debate. The Taliban's response comes amid India's attempts to resolve the dissatisfaction between Islamic countries at the diplomatic level.
"We urge the Indian government not to allow such fanatics to insult the holy religion of Islam and provoke the feelings of Muslims," said Taliban spokesperson Zabihullah Mujahid. Taking to Twitter, Mujahid wrote, "The Islamic Emirate of Afghanistan strongly condemns the use of derogatory words against the Prophet of Islam (Peace be upon him) by an official of the ruling party in India."
As of now, around 14 countries have condemned the derogatory remarks against the Prophet. Countries such as Iran, Iraq, Kuwait, Qatar, Saudi Arabia, Oman, UAE, Jordan, Afghanistan, Pakistan, Bahrain, Maldives, Libya and Indonesia have expressed protest over the incident.
Even as the union government tries to quell the anger in various countries by claiming to respect all religions, the diplomatic anger against the derogatory remarks made by BJP leaders Nupur Sharma and Naveen Kumar Jindal continues across the world. However, the external affairs ministry said in its statement that such derogatory tweets and opinions do not reflect the views of the government of India.
Demands for an apology from the government are rising from various quarters. The Organization of Islamic Cooperation's (OIC) also slammed the remarks and stated that such comments came in the context of the escalation of hatred and abuse of Islam in India and in the context of the systematic practices against Muslims and restrictions on them. It has also sought UN intervention in the matter.
Meantime, various political parties in the country have demanded legal action against the two BJP leaders who made the derogatory remarks. It has been alleged that the BJP is destroying the country's image at the international level. Following the controversial remarks, BJP spokesperson Nupur Sharma was suspended and Naveen Jindal was expelled. The party on Sunday said in a statement that it was against any ideology which insults or demeans any sect or religion. "The BJP does not promote such people or philosophy. During the thousands of years of the history of India every religion has blossomed and flourished. The Bharatiya Janata Party respects all religions," the BJP said.
Out of the countries that condemned the remarks, Qatar, Iran and Kuwait had expressed strong protests directly by summoning Indian ambassadors. Following this, the Indian embassies said in their statements that such derogatory tweets do not reflect the views of the Indian government. Meantime, there are concerns that the remarks could affect the country financially. In many countries, there are calls on social media to boycott Indian products