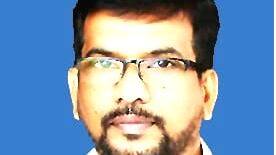 THIRUVANANTHAPURAM: Kerala Kaumudi special correspondent PH Sanalkumar has been named the winner of the Media Award instituted on the occasion of the 65th anniversary of the Kerala State Electricity Board.
The award consists of a cash prize of Rs 25,000, a citation and a sculpture. Sanalkumar won the award for his comprehensive report prepared with the help of statistics on increasing hydropower and solar power generation as an alternative to thermal power.
He is the son of Ernakulam Kumbalangi native Harshan and Shyamala. His wife is C. Prabeena, sub-editor of the Janmabhoomi Thiruvananthapuram unit.