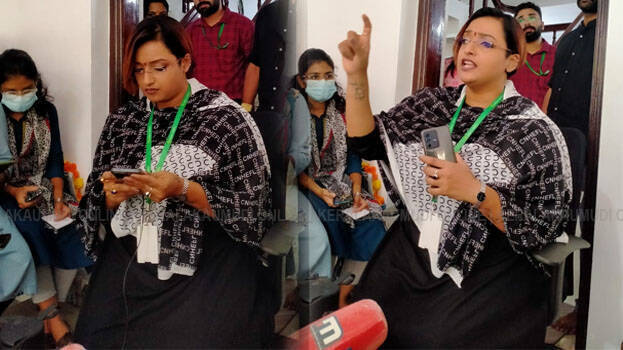 PALAKKAD: Swapna Suresh, the accused in the gold smuggling case, released the audio clips of Shaj Kiran saying about chief minister and Kodiyeri Balakrishnan. She released the unedited audio of one-and-a half hours. The audio clips were released at the office of HRDS in Palakkad, where she is working. Her office and flat are now guarded by the police.
She told media that Shaj Kiran was her friend. The chief minister's former principal secretary M Sivasankar introduced him to her. Shaj met me in Kochi after giving secret statement to the court. He had asked me to meet him after giving statement and did that.
Shaj came with Ibrahim. It was Shaj who threatened me. Ibrahim did not utter a word. Threatened to abduct Sarith tomorrow and was kidnapped the next day. Shaj said that he will be released after one and a half hours and did that. Called Shaj first as he threatened, she said.

'Sarith will be arrested tomorrow. Do you know played with whom? He will not tolerate if his daughter's name is mentioned, this is how he threatened. He also threatened to release sleazy video. If there is any, expose it. Evidences are revealed after mental harassment crossed the limits. Threatened to jail me if sticks to the statement,' she said.

Swapna said Shaj had told him that the funds of the chief minister and that of CPM state secretary Kodiyeri Balakrishnan is in USA and goes through Believers Church. It can be heard in the audio that many are trying to influence. The chief minister is number one and Shaj Kiran is the benami of the chief minister, she said. She also released the details of the companies owned by Shaj Kiran.