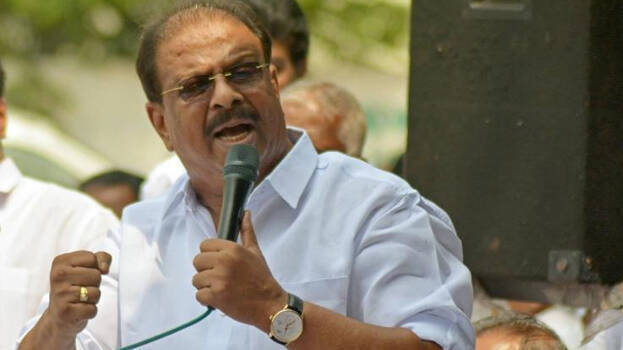 THIRUVANANTHAPURAM: KPCC president K Sudhakaran MP said that the Kerala government is adopting double standards on issue regarding eco-sensitive areas.
The government is not determining the Eco sensitive zones(ECZ). The Chief Minister and the Forest Minister are trying to mislead the people by spreading lies and by hiding the decision taken by Cabinet on October 23, 2019 which declares one kilometre area around the protected forest area as ecologically sensitive zones. Kerala government is trying to fool the people. The CPM, LDF and the government has changed their stand because of the objection and protests. Forest Minister A K Saseendran's response which seems like a confession and the government approaching the court against their own decision seems strange. The current action of the government was insincere and fake, said Sudhakaran.
Kerala is one the states with largest forest cover. The presence of wild animals in human habitats are already causing trouble to the people. So the law might adversely affect the farmers and common people living in these areas. The people living in these hilly regions suffer due to the irrtesponsible attitude of the government. Despite the court order to submit a report on the construction activities in the buffer zone, the state government failed to submit it on time. Hence,the oppurtunity to let the court know about the misery of people was missed.
As per the Supreme Court order on all states to leave a mandatory eco-sensitive zone of one kilometre from the boundaries of national parks, wildlife sanctuaries and other protected forest land and the state government's Cabinet decision, about four lakh acres of land will come under this order and the right to life of one lakh families will be affected. Sudhakaran said that a pre-determined decision should be taken soon. It is the responsiblity of the government to to address the concerns and grievances of the people in the region. The ECZ in Kerala should exclude human habitats and agricultural areas and a decision must be taken on this basis, said Sudhakaran.