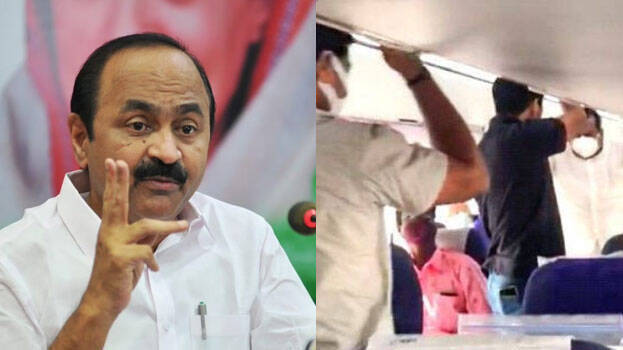 THIRUVANANTHAPURAM: Opposition leader V D Satheesan slammed the report prepared by Indigo airport manager in the protests staged by the youth congress activists on the aircraft carrying the chief minister. Satheesan called Varun Dwivedi, Indigo south Indian chief and expressed his displeasure.
The opposition leader said Bijith, a native of Kannur and airport manager, was under pressure to comply with and so the report prepared by him should be rejected. Indigo manager prepared the fake report under political and police pressure. The name of E P Jayarajan was deliberately omitted from the report. Despite Kodiyeri and EP saying that the protest took place after the chief minister disembarked, a fake report was prepared. The opposition leader, who spoke to the South Indian chief, will soon file a written complaint.
The airline submitted a report to the police confirming the statement of the complainants in the murder attempt case against the chief minister. While preparing to land at the Thiruvananthapuram airport, three persons rushed towards the chief minister and threatened him in local language.

Meantime, the Special Investigation Team (SIT) will meet in Ernakulam today in connection with the murder attempt case on the chief minister. The officials have collected the information of all passengers on the flight from Indigo Airlines. The DGP directed Crime Branch SP Prajeesh Thottathil to conduct a probe into the case, including the conspiracy. The police will issue a lookout notice today for Sunith Narayanan, the third accused in the case, who is on the run.