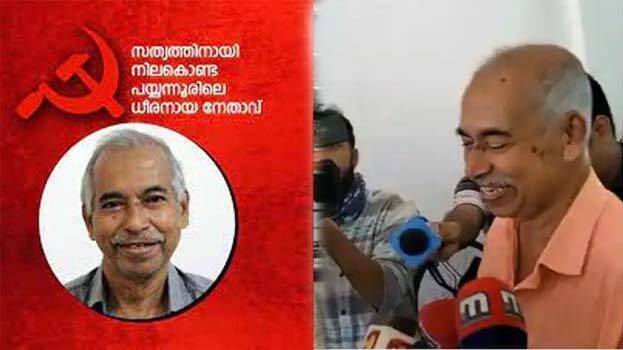 KANNUR: The party's efforts to appease former CPM area secretary V Kunjikrishnan, who was ousted from the party following the Payyannur fund scam, did not yield results. There will be no change in my decision to end public activities, Kunjikrishnan told the media, after his meeting with P Jayarajan at the Payyannur Khadi office. Jayarajan had met with Kunjikrishnan as directed by the Kannur district committee.
According to Kunjikrishnan's stand, the move to oust him from the post, despite filing a complaint against Payyannur MLA T I Madhusoodanan with all the evidence, was unacceptable. In the incident, Madhusoodanan was demoted from the district secretariat to the district committee. However, Kunjikrishnan demanded strict action against the MLA. Meantime, P Jayarajan said that there were no mediation talks with Kunjikrishnan.
Payyannur party activists have expressed anger over the action taken against Kunjikrishnan. Posters of Kunjikrishnan titled 'Courageous Comrade of Payyannur' were shared by several activists in Vellur, Karivellur and Bedakam. Many have even put Kunjikrishnan's photograph as their profile pictures. The party's appeasement move was prompted by the fact that many of its followers have left the party WhatsApp group and there were strong protests in party local committees.