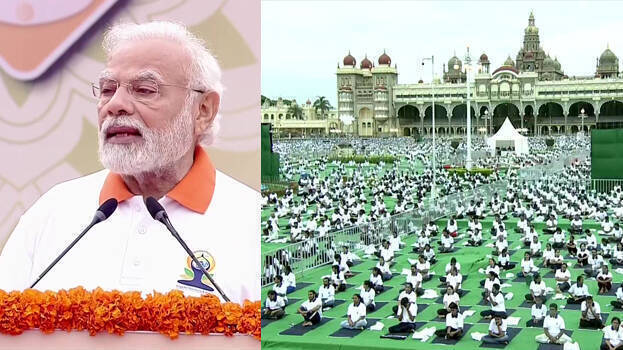 NEW DELHI: Yoga has now become a global festival, said Prime Minister Narendra Modi. It provides peace to the world and has served humanity in alleviating the suffering during the pandemic, he said, while attending the eighth International Yoga Day (IYD) celebrations organized in Mysuru, Karnataka. Around 15,000 people took part in the Yoga demonstration along with the prime minister.
"Yoga brings peace for us. The peace from Yoga is not merely for individuals. Yoga brings peace to our society. Yoga brings peace to our nations and the world. And, Yoga brings peace to our universe," Modi said.
Widespread events are being organized in the country in connection with the IYD celebrations. As part of the 75th anniversary of independence, union ministers led Yoga classes at 75 prominent places.
According to the AYUSH ministry, more than 25 crore people will take part in the IYD celebrations held under the theme 'Yoga for Humanity'. Around 75 countries and various organizations under the United Nations have also organized IYD celebrations led by the Indian embassies at their respective areas.