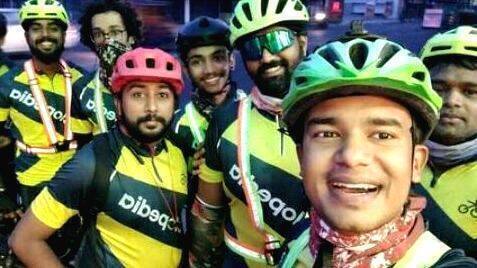 When was the last time you rode a bicycle? Most of us would have bid goodbyes to that habit years ago. Yet, just imagine… a cycle that moves forward when you pedal backwards or one that moves left when you turn its handle to the right. A bit intriguing, right? Such a sight was recently spotted at Shankumukham beach in the capital city. Brain cycles, as they are called, may not be everyone's cup of tea. But, endurance cycling is definitely something worth giving a shot and 'Kcyclopedia' is your ultimate route map for the adventure.
From fear to passion
Two IT employees, Vishnu Lal R and Krishnamoorthy G V, embarked on their cycling rides out of the blue, one day. It was in the middle of a candid conversation that the danger lurking behind their sedentary lifestyles, juggling between work and weekends, dawned upon them. "One afternoon, amid a casual chat after a sumptuous lunch, we realized how sedentary our lives were. Soon, we did a full-body check up, only to find out some worrying results; borderline cholesterol, diabetes and other lifestyle diseases. That's when we finally decided to change gears. After three months of discussions, we had a real light-bulb moment and both of us stumbled upon one idea – Cycle", says Vishnu, an IT employee and the brain behind Kcyclopedia.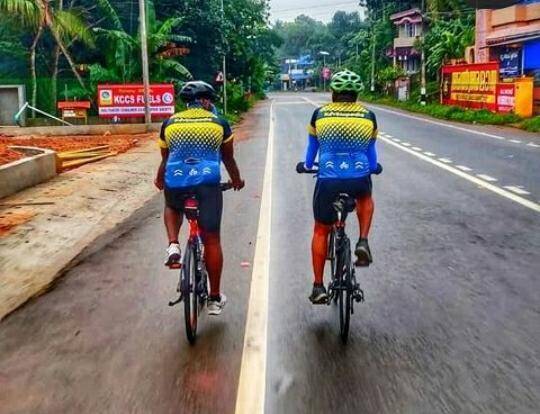 The journey, which began out of fear and guilt four years back, has now reached new heights with the immense popularity achieved by these cyclists on social media. An all-inclusive YouTube channel, biggest of its kind in Kerala with more than 128K subscribers, providing exclusive content on cycling, food, travel, among others – Kcyclopedia, as rightly called, is Kerala's Cycling Encyclopedia!
To spread the message of active cycling, the duo had even ventured into an All Kerala Cycle Ride, from Kasaragod to Thiruvananthapuram, covering around 650 km in six days. It is through such long and short rides that they acquainted with many of their current co-riders. One such cycle lover, Nishan Mujeeb, a margin-free market owner-turned-cycle mechanic, is the man behind the brain cycle, whose engineering dreams sprouted under the feathers of Kcyclopedia.
A helping hand…
Kcyclopedia offers a variety of content ranging from cycling shorts, interviews, reviews, advice for beginners, travel vlogs etc. to cycle giveaways. Nonetheless, the channel is not run for profit, rather to promote active lifestyle. The cycle giveaways organized by the team evidently proves the same.
"Cycling is our passion, it's a feeling deeply ingrained in our hearts. Kcyclopedia is not a source of income for us. We simply want to share our experiences and YouTube is our medium. Whatever little we earn, we give back to our viewers", says Vishnu. "During my childhood, my parents couldn't afford to buy me a cycle. On scoring good marks in 10th grade, it was my friend's father who bought me my first cycle. I know how much it matters. That's why we organize these giveaways. We find the most deserving children and gift them cycles. That keeps us going," he adds.
The team's goal is to gift cycles to the most deserving children, chosen from about 500-1000 entries, nominated by subscribers. "We have prepared a Google form for the process. Each entry is evaluated on the basis of three criteria: Passion, Purpose and Priority. A panel, or sometimes the subscribers themselves, will assess and choose a deserving candidate from the entries. So far, we have gifted 10 bicycles," says Rejoy B S, a cycling enthusiast.
Ever since its launch in April 2019, Kcyclopedia has had an organic growth overcoming hurdles and leveraging opportunities. The pandemic proved to be an advantage as many turned to cycling as a means of exercise. From two to more than 100K subscribers, it's all a result of pure teamwork rooted in sincere passion. "Kcyclopedia is not a club or group; it's an idea. Anyone who follows an active lifestyle, anyone who practices safe cycling, anyone who feels like giving back to the society, is part of it", says Vishnu.
Cycling for an active lifestyle
Apart from the much-talked-about health benefits, cycling offers an array of other wellness rewards too. It releases happy hormones such as dopamine, serotonin and oxytocin that are known to promote positive feelings. Further, it enables to us to capture moments and experiences that are often overlooked.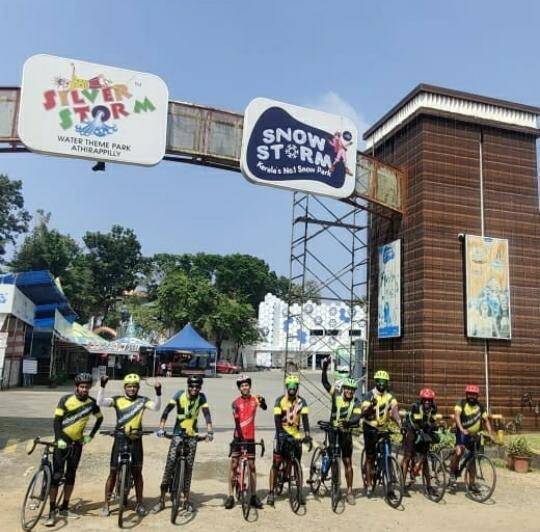 "When you travel to places on bikes or cars, you are able to enjoy only the destination experience. But when you travel by cycle, you meet a lot of people and places, which you would have missed otherwise. For instance, there is a beautiful place called Munippara, a few kilometres away from the heart of the capital city. If not for these cycles, we would have never visited that place. That's why I say, cycling is the best way to travel", explains Vishnu.
In addition, the gang also hopes to popularize the concept of cycling to work. However, it needs to be made feasible as it requires workplaces to set up washroom facilities, where one can freshen up after cycling.
Safety matters…
A lot of preparation goes behind every cycling endeavour. "When you cycle the priority must be to ride safely. 'To see and to be seen' is our safety mantra. You have to be visible, especially at night. It is advisable to carry head lights and blinkers. Helmets and safety vests are a must. Besides, a mini-pump and a puncture kit could also come in handy. When it comes to food, the rule is to drink before you feel thirsty and eat before you feel hungry," says Vishnu. "If a person in Kerala is cycling, then he or she should cycle safely, that's our aim," adds Rejoy.
Family beyond borders
Kcyclopedia is a family of cycling enthusiasts spanning all over Kerala and beyond. Skilled professionals, including doctors, engineers, techies, medical representatives, amateur cyclists, Super Randonneurs and Double Super Randonneurs (riders who complete a set of rides of 200, 300, 400 and 600 km within a time frame), are all part of this team.
What began as a humble initiative, to promote active lifestyle and consumer awareness in the cycling industry, has now achieved a lot. Inspired by them, many, including women and teenagers, are actively engaging themselves in cycling. However, as Vishnu says, "It is not about intensity; consistency is what matters."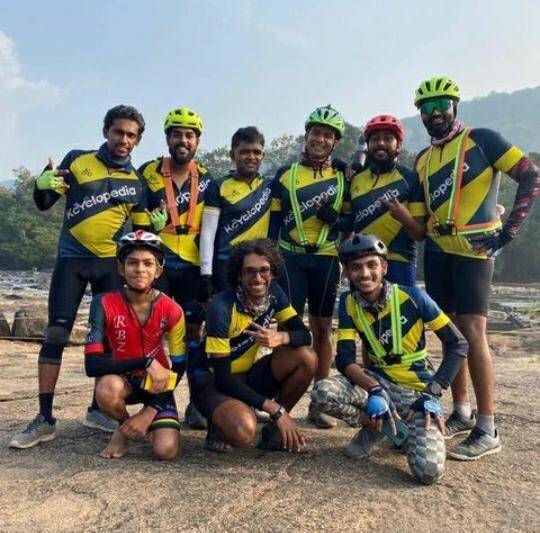 Future initiatives
"We have come a long way in promoting cycling. Now, the plan is to focus more on safety. Helmet giveaways are also in the pipeline. From cycling, we hope to become the face of safe cycling", says Vishnu. "If all goes well, then a Leh-Ladakh trip is also in the offing," adds Rejoy. For now, Kcyclopedia is all set for its next adventure.