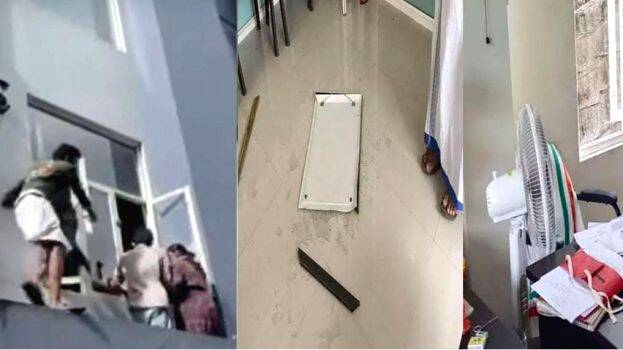 Politicians do a lot of stupid things to divert attention and get more attention. We can understand that to some extent. But no one can justify violence in the name of protest over any issue. It is assumed that the protesters launched an attack on Rahul Gandhi MP's office in Kalpetta by thinking that the police would protect them.
The SFIs stormed into Rahul Gandhi MP's office and vandalised the objects by raising the strange argument that the MP was not interfering in environmental issues. A group of about 300 people marched, vandalized the office, beat up two employees and smashed a picture of Mahatma Gandhi. The incident took place just 300 meters away from the SP office. Yet it is unfortunate that the police were able to prevent the violence. Protests by Youth Congress members across the state against the attack also resulted in clashes. Although the CPM and the Chief Minister have condemned and denied the SFI violence, the protests have not yet subsided.
Indeed, the Supreme Court's decision to ensure a buffer zone around protected forest areas and wildlife sanctuaries has caused concern in the hilly region. But it is up to the state government to take action and intervene first to get rid of it. The central government can also take some action. The Congress government is not the ruling party at the Centre and in Kerala. So how can Rahul Gandhi be guilty?
The review petition in the Supreme Court should be filed by the CPM-led state government. As the Wayanad MP, Rahul Gandhi wrote a letter to the Chief Minister and the Prime Minister asking the state and the Centre to intervene in this matter. So the SFI's allegation that Rahul Gandhi remained silent on the issue is not factually correct. If they had so much anger over the issue, the SFIs should have marched in front of the Secretariat. One can speculate that the protesters attacked Rahul Gandhi's office for the cheap publicity that comes with being noticed all over the country.
A student body like SFI, which has won many notable struggles for the students, should not have carried out such an attack in Kalpetta. Violence is not an adornment for anything. Only foolish people resort to violence. It will be good if all political parties and organizations remember that such people should be isolated.