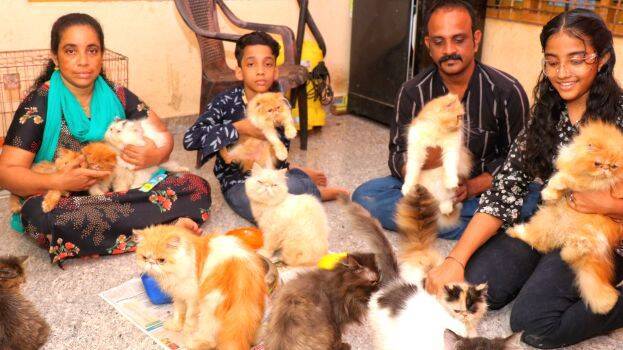 'Cats are the blessings of this house', although Suresh haven't wrote it down in front of his house, it is a reality. He is having 40 cats of foreign breed in his house and they costs Rs 70 lakhs in total.
Suresh Kumar, a home appliances businessman, started cat breeding 16 years ago due to his interest. He loved a cat who came with a customer to his shop. Suresh bought a cat of 'doll face' breed for Rs 10,000. His wife Jini and kids Megha and Mebith loved the cats. He decided to turn it into a business and searched several websites.Suresh bought top quality breeds from abroad like Germany, Columbia and Europe. 'Domino' from Europe is the last addition to this cat family.
He finds foreign breeds in association with Cat Fanciers Association.If you order online, the agencies will deliver the cats through cargo. The cats live in the AC Hall. They have different food habits also. The general diet consists of milk, eggs, fish, beef and chicken.
Importing a six-month old kitten costs Rs 4 lakh and their monthly expense is Rs 70,000. A kitten is sold for Rs 1-2 lakh and 7 kittens are born in a delivery. Suresh Kumar says that special care is needed during delivery time and lots of people approach them for cats.