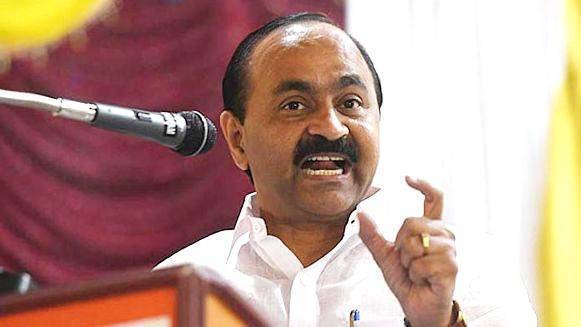 KALPETTTA: Opposition Leader VD Satheesan on Saturday said that the CPM had taken over the quotation of the Modi government and the Sangh Parivar to oust Rahul Gandhi from Wayanad. He was speaking at a press conference at the Kalpetta DCC office after visiting Rahul Gandhi's office which was attacked by the SFI activists.
"The attack on Rahul Gandhi's office was led by the personal staff of the Health Minister. What is the connection between the buffer zone and SFI? Rahul Gandhi wrote a letter to the Chief Minister on June 8 regarding the buffer zone issue. He wrote the letter in the context of a court order which stated that the state government should propose the regional changes in the buffer zone. However, the CPM district secretary mocked him for writing to the CM. Pinarayi Vijayan is the real villain in the buffer zone issue.
It was a cabinet meeting chaired by the Chief Minister, which decided to adopt a 1 km buffer zone around protected forest regions in the state," VD Satheesan said.

"Rahul Gandhi's office was attacked with the knowledge of the chief minister's office. Superior police officers also supported the attack which was carried out with an exact plan. Police had recently arrested DYFI's Anti-Drug district committee coordinator for driving under the influence of alcohol. SFI state secretary is one of the biggest criminals in Kochi. He was the one who kicked the woman leader of the AISF in MG University," Satheesan added.
The Opposition Leader reacted angrily to the Deshabhimani reporter who asked about how a picture of Mahatma Gandhi that was mounted on the wall in Rahul Gandhi's office fell down. According to the reporter, Gandhiji's picture was seen on the wall in the visuals shown by the media soon after the attack. However, the picture was seen lying on the floor in the visuals that came up later. Satheesan responded by saying, "You have asked a provocative question on an emotional topic. However, I am not asking you to leave due to courtesy."